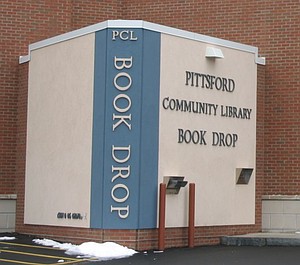 The book drop at PCL is supposed to look like an open book.
Location
24 State Street, Pittsford, NY 14534
Hours
Monday - Thursday: 10:00AM to 9:00PM
Friday: 10:00AM to 6:00PM
Saturday: 10:00AM to 5:00PM (Closed Summers)
Sunday: 1:00PM to 5:00PM (Closed Summers)
Phone
585 248 6275
Accessible
Yes
Website
http://townofpittsford.org/home-library
The Pittsford Community Library, Pittsford's brand-new shiny public library opened in Fall 2005. They are a member of the Monroe County Library System.
In addition to a built-in Starbucks, the library also has a new teen area, a larger children's library, and a public meeting room. The library has free WiFi, as well as public-use Internet-connected PCs.
The
Friends of the Pittsford Community Library is a regular exhibitor at the Rochester Antiquarian Book Fair.
Comments:
Note: You must be logged in to add comments
---
2006-11-10 13:46:55 The collections here are quite small - specifically the kids section and the music section. Presumably they were constrained by the size of their previous building, and hopefully will grow. —ChrisYoung