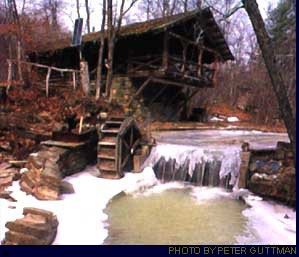 Main Lodge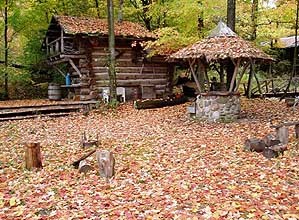 Sauna Loft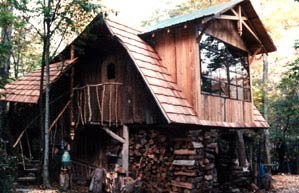 Wood Loft
Pollywogg Hollër is New York's only (?) eco-resort, near Alfred, NY and accessible via short 5 minute hike from the road (wheelbarrow or golf cart provided for baggage). This resort / pizza parlor is totally "off the grid" meaning it relies on traditional methods and solar power. Pizza is served publicly on Sundays 1p-6p & Wednesday evenings and when a band plays on most Sundays during the summer and spring. There is a $5 cover charge to visit on a Sunday when a band is playing, but it that just goes to the band, not the Holler.
They offer overnight all-inclusive (appetizers, dinner (includes pizza, wine & breakfast) packages ranging from $110 per person and are also open in the wintertime, for the more adventurous. Their current flyer states that dogs are not allowed, but call ahead to confirm.
If you are not an overnight guest but would like to visit, please check their web site or call ahead to see what the current policy may be. They welcome everyone but have had to make some changes in policy to combat "riff-raff" abusing their liberal open door policy for day use.
Comments:
Note: You must be logged in to add comments
---
2007-05-27 17:08:55 We spent a few hours hanging out on the porch of the main cabin chit chatting with the other guests and the hosts. They poured wine until our glasses runneth over, fed us appetizers (shrimp, cheese, crackers & vegetables) then fed us hickory smoked steak & potatoes and chicken & rice. Unfortunately we were too full to try any of the hickory smoked apple pie. Eventually we retired to our loft above the sauna room (those stairs were most precarious). Breakfast was also good and we stayed around for the Sunday pizza. A mother/son came the way from Florida which were on the end of their week-long vacation and the Holler was their final stop before heading back. They were using the
Weird New York book as their guide, which is where I originally heard of the Holler a year before. We tried both the traditional pepperoni pizza /w garlic (home grown) and we tried their specialty dish "Bill's Garlic Pie" which has feta, black olives, red & yellow pepper. Both pizzas, cooked in a wood over, were great. I highly recommend this place even if you can only come for the pizza. Overall this is the best little vacation I've ever taken. —TravisOwens
---
2008-06-09 15:10:20 Some of the info above may be a bit out-dated. Their rules seem to change pretty frequently—they have a great place and unfortunately do have to manage folks taking advantage of their hospitality. (Day visitors, not overnight guests.) They are having bands almost every Sunday this summer. You don't need a membership for that, but there is a $5 cover charge and they do serve pizza. This is an amazingly great place, but know that it is off the grid and a bit rustic. —BadFish
---
2017-01-08 16:57:16 So I visited maybe 6 or 7 years ago and didn't have a super positive experience but the proprietors are...how shall I say, just regular small town guys trying to get along and aren't super professional so I didn't post it. The facility is super cool and I love the atmosphere. It is rustic, crunchy and off the grid. One to the bad. The night we were there, one of the proprietors slept in one of the lean-tos on the pond/lake and then just made the same bed up. Do you want to sleep on the same sheets a stranger has used? Also, the son handled the business part and when we were talking about the payment, I paid by card. He did it all and kept talking about "if you want to leave a tip." He mentioned it about 4 times. When you are the person receiving the tip and keep telling the customer about it, that is just in poor taste. It was super awkward and I just ended up telling him to add what was appropriate. (My fault as well.) I don't remember the actual number but I remember thinking later that the number he had added on the already 3 digit fee to sleep in a hippy commune was sort of steep. Don't get me wrong, I have been on tour following a jam band, I like hippies. But the son did remind me of some of the less savory characters seen on tour. (Not implying illegal drugs, just sketchy selling practices.) I have friends that live in the area and go during the day and love it. However I would not be likely to give them much of my money ever again. —badfish