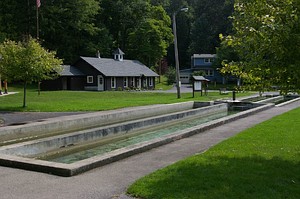 The Fish Hatchery, 9-2008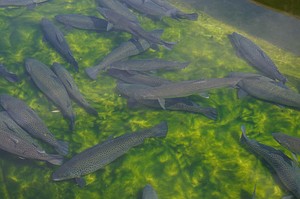 Trout at the Hatchery, 9-2008
Powder Mills Park is a park in Pittsford, the highlights of which include a winding fishing stream stocked with trout, a fish hatchery, multiple hills for sledding, a small beginners' ski slope, several picnic areas with pavilions, and countless trails (xc ski and hiking) crisscrossing its interior. Biking is prohibited on the trails of this park.
The park has many miles of trails which have recently been mapped (see
http://www.powdermillspark.com for current maps). Note: The county map shows only a few of the actual trails! The trails were originally set up (probably back in the late 60's) with cross-country skiing in mind and are excellent in an ungroomed back-country way. Colored trail blazes are in place to guide you along various paths. Deer, birds, fox, coyote, rabbits are the wildlife most often seen. Irondequoit Creek goes through the middle of the park
The small downhill ski slope has snowmaking and a rope tow to get you up the hill. Lessons and rentals are available at low cost. No xc ski rentals are available here. One very nice item is that the Powderhorn Lodge is open much of the winter (whenever the ski slope is open), so if you are crosscountry skiing, sledding, or snowshoeing, this is a nice place (with a fireplace and hot chocolate!) to warm up.
Enter the park from Route 96 South of Bushnell's Basin near Interstate 490.
The Park office is at 154 Park Road, Pittsford, NY 14534
Related Links
*
Monroe County Parks Department Powder Mills Park Page
*
Monroe County Parks Department Map
*
Hiking the Daffodil Trail
* The Mushroom House is here.
See Also