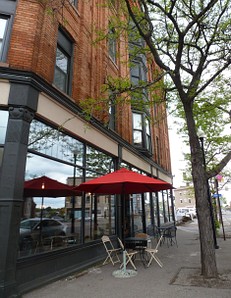 Press Coffee Bar is a coffeehouse in Grove Place's Windsor Lofts building (bordering the East End). They roast their own beans daily. Currently, Press offers direct trade coffee from a farm in Puerto Rico owned by a family member. The rest of their beans come from Vournas Coffee, a certified organic, fair trade importer. For brewing, customers can opt for French Press, Turkish coffee, or pour-over. The menu also contains numerous espresso drinks unique in Rochester to Press, such as cafe miel, cafe borgia, cafe con panna, cafe cubano, cafe marocchino, and cafe breve.

They also offer panninis, bagels, yogurt, and pastries.

Press is also one of the few venues in Rochester for live jazz year-round. The 1,400-square-foot space has a piano and hosts talented Eastman students every Friday and Saturday evening. The cafe is also notable for its large windows overlooking Main Street, along with sidewalk seating outside.

Press Coffee Bar opened May 12, 2014. The owner is Damian Serafine, whose brother Jerry owned 2 Vine. Damian ran successful coffeehouses in Arizona for over twenty years and decided to move back to the Rochester area in 2013. The location was previously Cathay Pagoda.

The business was sold to Todd in March 2016, as Damian was moving back to Phoenix. Press continues to roast and sell its own beans. Closed 2018.
References
Comments:
Note: You must be logged in to add comments
---
2014-09-12 21:41:23 Just had a fantastic night here. They had live jazz and it was such a perfect setting. Watching the dark descend on the urban street scene as I listened to the piano and sax in the old loft space with mismatched furniture and exposed brick - I was truly reminded of why I moved to the city. While Fuego has the best coffee in Rochester, Press definitely has the best atmosphere. —EileenF