This is a page for RocWiki Propaganda.
Stickers
Here are some logos that you might want to print on stickers! Add your own. Use a template from
here
T-Shirt
Another idea....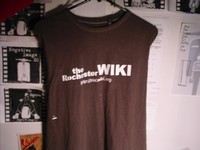 RocWiki Promotion Cards
Links
Please supply at least an image name, e.g. [[Image(image.jpg)]], where image.jpg is an image that's been uploaded to this page.