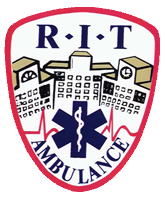 About
RIT Ambulance is a student run Emergency Medical Service (
EMS) organization which responds to the medical needs of the RIT community 24 hours a day, 7 days a week, except when the Institute is closed. RIT Ambulance operates a New York State Certified Basic Life Support ambulance and a Basic Life Support first response / command vehicle. In addition, RIT Ambulance provides standbys as requested for concerts, sporting events, and other social gatherings on the RIT campus.
RIT Ambulance responds to over 750 calls annually on the RIT Campus in Henrietta. Together, with assistance from Henrietta Ambulance (
Website) paramedics, we're able to handle any medical emergency on campus, at any time of day.
History
RIT Ambulance has been a volunteer EMS related organization since the campus moved to Henrietta in 1968. Although humble in beginning, and known under the name of the "Student Safety Unit" (SSU) at that time, students held doors open during fire alarms for students, refilled first aid kits around the dorm side of campus, and inspected fire extinguishers.
Over the next decade, the SSU began first responding to emergency calls on campus and taking students to regularly scheduled medical appointments both on and off campus. With a greater emphasis on emergencies, the SSU transformed their name to the "RIT Emergency Unit" (EU) as they began their first response and initial emergency transports.
December 1st, 1981 marked a new era for the EU and the RIT campus' emergency medical response. The EU became officially named RIT Ambulance as it was certified by New York State as a Basic Life Support (
BLS) transporting EMS agency and operated an officially registered New York State BLS Ambulance.
Volunteers
RIT Ambulance is 100% volunteer. Any student, faculty, or staff may apply and become a member. Over the years, the RIT Ambulance Corps has grown to be one of New York State's leading collegiate EMS teams. We are always looking for highly motivated volunteers to join us, so if you are interested you can apply at any time. There is no experience necessary to join our corps – we provide everything you'll need in-house. Additional training can be coordinated through our training department as needed for certifications like EMT-Basic, which is through Monroe Community College. For those without any experience, you may begin training immediately as a Driver. If you are a New York State Certified Emergency Medical Technician, you may begin training as a Medic. To apply, click here:
Online Membership Application.
Staff
Our staff consists of an Executive Board and Operations Staff. The President, Chief of Operations, Secretary, Recruitment and Retention Direction, Public Relations Director, and Quartermaster comprise the Executive Board and handle all administrative matters for the corps. The Operations staff consists of the Chief of Operations, Deputy Chief of Operations, Training Director, Equipment Director and any Captains that the Chief appoints. All of our staff works with the Director of the Student Health Center on the RIT campus form which we receive our right to function and funding.
Vehicles
RIT Ambulance operates two vehicles:
Ambulance - "6359"

The current 6359 is a 2006 Road Rescue type III ambulance built on a Ford E-450 chassis from North Eastern Rescue Vehicles. Inside the compartments are stocked with BLS equipment for bleeding control, airway management, oxygen administration, and immobilization. In addition our ambulance carries a full complement of basic medications including Epi-Pens, Aspirin, Albuterol, Naloxone (Narcan®), oral glucose, and oxygen.
First Response / Command Vehicle - "Defib 63"

Defib 63 is a New York State certified Basic Life Support First Response and Command vehicle built by Professional Vehicle Solutions. Defib for short, our "fly-car," is a 2011 Chevrolet Tahoe designed for quick response with an emergency light package and siren package utilizing the Whelen Howler™, which provides deep, low frequency tones that are able to penetrate other vehicles, alerting drivers and pedestrians. Defib is fully stocked like 6359, including an AED, and is utilized when our ambulance is unavailable and for Command Officers to respond to scenes when needed for command. In addition to the normal basic supplies and medications, NIMS compliant triage tags and MCI supplies are also on board.