Location
280 East Main Street, Rochester, NY 14604
Hours (as of December 2018)
Thursday - Sunday: 1:00PM to 5:00PM
Phone
585 256 3312
Wheelchair Accessible
Yes
Email
<CADgalleries AT rit DOT edu>
Website
https://cityartspace.rit.edu
Facebook
RIT City Art Space is Rochester Institute of Technology's metro showcase for contemporary art The Sibley Building.
Previously it was called Gallery r and was located on College Avenue in the Neighborhood of the Arts. The gallery started in the summer of 1999 when RIT's School of Art moved into their newly renovated facility at 775 Park Avenue. The grand opening corresponded with the annual celebration of the Park Avenue Summer Art Festival. Nearly a dozen Fine Arts Studio students from sculpture were showcased during "Prologues", the gallery's premier art exhibit.
RIT's
College of Imaging Arts and Sciences established the metro gallery for the School of Art. Gallery r is committed to exhibiting outstanding works created primarily by RIT students, RIT alumni, and invited professional artists. Students run the facility as part of an art gallery management course that RIT offers to seniors and graduate students each quarter.
It is a School of Art educational laboratory site and visual arts venue for all RIT / College of Imaging Arts & Sciences students. As a metropolitan gallery, r presents art to the widest possible arts-supportive audience and maintains a selected collection of student/alumni artwork for on-site consignment and sales.
In 2010, Gallery r began a transitional phase and left their Park Avenue location. Over the next year, exhibitions were held at alternative spaces while a new space was secured and constructed. The new location of Gallery r at 100 College Avenue opened in Fall 2011 and brought new opportunities for learning and collaboration with close proximity to the Village Gate, the Anderson Arts Building. Gallery r also participates in First Friday.
(source:
Gallery r website)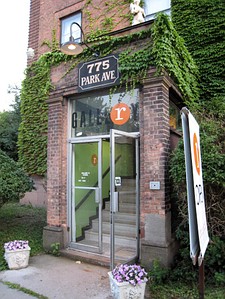 Gallery r, previous location on Park Avenue from 1999 to 2010
Comments:
Note: You must be logged in to add comments