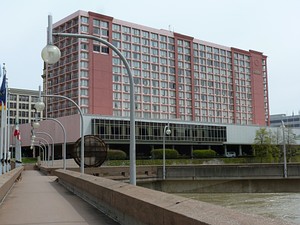 View from the Sister Cities Pedestrian Bridge in 2012.
The Radisson Hotel Rochester Riverside, formerly the Clarion Riverside Hotel (and before that, the Sheraton Four Points Riverside Hotel), is a local hotel located on the Genesee (obviously), across the street from the convention center. The hotel connects to the convention center via the skyway. They have a parking garage which is open to the public when it is not busy; otherwise, it is for guests and monthlies only.
The Radisson is convenient to headquarters offices of Kodak, Xerox and Bausch and Lomb, as well as downtown attractions like the Blue Cross Arena, Frontier Field and Geva Theatre. The restaurant Legends Sports Bar & Grille is located in the lobby on the Main Street side of the building. The neighborhood is called the Convention District.
Also home to the Time Out Massage & Treatment Center.
Another Radisson location in the area is in Henrietta near the RIT campus.
Comments:
Note: You must be logged in to add comments
---
2007-05-23 07:37:53 recent article about complaints about the hotel for convention groups!
http://www.whec.com/article/stories/S92335.shtml?cat=566 BROKEN LInk—JcPop