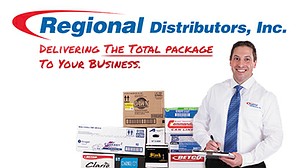 Regional Distributors, Inc.
Location
1281 Mt. Read Boulevard, Rochester, NY 14606
Hours (as of September 2014)
Office: Monday - Friday: 8:30AM to 5:00PM
Will call: Monday - Friday, 9:00AM to 3:00PM
Phone
585 458 3300
Wheelchair Accessible
Yes
Email
<customer-service AT regdist DOT com>
Website
http://www.regdist.com
Facebook
LinkedIn
YouTube
Regional Distributors, Inc. is a distributor of commercial products and equipment. They provide a bundled supply source for commercial janitorial, paper, food service, warewashing, laundry, ice cream, frozen yogurt, and green products. Their headquarters are located in the city's Lyell-Otis neighborhood. Established in 1994, the company is a NYS Certified Women's Business Enterprise (WBE), family-owned, veteran-hiring business owned and operated by Tracy Scalen, President, and her husband David Scalen, Executive Vice President.
Products
Regional Distributors, Inc. delivers a diverse range of markets a streamlined, one-stop source for commercial supplies and equipment including:
Janitorial and commercial cleaning products and equipment


Paper Supplies


Industrial cleaning and shipping supplies


Restaurant, food service, and food processing supplies, packaging, and equipment


Catering supplies and equipment


Ice cream products and equipment


Frozen yogurt products and equipment


Laundry and hospitality supplies


Commercial warewashing machines and products


Green products and equipment
Comments:
Note: You must be logged in to add comments