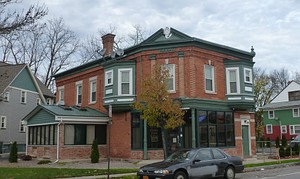 (Nov. 2012)
Renaissance Cafe Sports Bar & Grill was a sports bar in the Plymouth-Exchange Neighborhood. They offered:

Monday Night Seafood Fest with crab legs, lobster, and shrimp.


Friday Happy Hour featuring $3 margaritas.


Wednesday Karaoke from 7:00PM to 11:30PM.


Country style dinners every Sunday.


Steaks, wings, chicken, and burgers by "Grill Master" Tony.


An annual Juneteenth festival.


Dart League and Bike Night.

You had to be 30 or older to enter.
Comments:
Note: You must be logged in to add comments