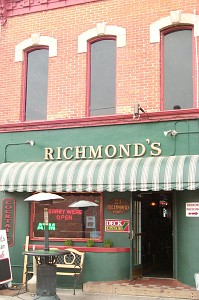 Former Location
21 Richmond St, Rochester, NY 14607
Hours (as of October 11, 2020)
Closed
Richmond's was a bar and grill on Richmond Street in the East End. It was a popular hang-out for local TV celebrities and was featured in the movies The Alphabet Killer and The Great Chicken Wing Hunt.

It had closed in early 2011 and reopened in January 2012 under new ownership. Richmond's now serves a full menu.

As of August 2014, Richmond's is under new ownership with an expanded menu and new hours.
Comments:
Note: You must be logged in to add comments
---
See Archive Page for comments prior to 2012 (under previous ownership).
---
---
2013-06-29 10:49:00 On a damp Friday night at the Jazz Fest we slipped down the street to Richmond's for a bite to eat about 7:30PM. On arriving it appeared to be a decent bar but there was no evidence of food being served. We asked and were assured they could feed us, were promptly seated across from the bar, and presented menus. Unfortunately they showed very little resemblance to the fairly interesting menu posted on their website. My wife settled for a cheese steak which was good. My shrimp po-boy was overcooked and dry. The house-made potato chips were the best part of the meal (along with the cold beer). I don't know if we were too early, or too late, or the online menu was just a form of bait-and-switch. Although the staff was very friendly and welcoming, we probably won't bother to stop back. —jgerek
---
2014-11-09 19:00:05 Usually a spot of mine to go to after a long night of work. I have been through 2 owners and still frequent the bar. Last night, I happened in after work and ordered my usual. This included an order of fries and wings, as well as a beer and a double shot. What slapped me in the face is that i ordered my meal, and it was given to me in a to go box. I looked down the bar and noticed that everyone else who had been recently served were given cute little trays with their food. I asked the bartender if I had asked for my food to go. he said N, but its late night and we just figured... I stopped listening at that point. I figured he served my food "to go" so , I should leave, which I quickly did, leaving half my drink on the bar. I have a stressful enough job and go to Richmond's to wind down. Suffice it to say, my night was ruined, I took my food home and opened it... only to find ugly "broken boned" wings and over cooked french fries. Time to find another spot to wind down because I know BOSCO would not have allowed me to leave his location as frustrated as I was. but wait... BOSCO isn't there and this is a new owner... time for a new wind down spot. I will be sure to spread the word. —iceeyes
---
2015-10-05 13:50:07 I'm sorry iceeyes, but I can't stop re-reading your post and laughing. —DE
---
2017-11-30 15:52:27 One odd thing about this place is that they don't do takeout orders unless it is ordered through Grubhub. Went to order wings over the phone once and they told me that. Got them from Marshall Street instead. Besides that, I like Richmonds. Good bar food. —DE