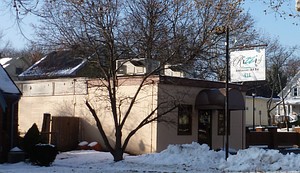 Location
411 Merchants Road, Rochester NY 14609
Hours
Info Needed
Phone
585 288 8220
Wheelchair Accessible
Yes
Alcohol
Yes
Email
<rizzi1 AT rochester DOT rr DOT com>
Rizzi's Restaurant and Bar is a family owned and operated Italian restaurant in Culver-Merchants. Their sauces and meals are made fresh daily on premises. They also offer catering services.
Comments:
Note: You must be logged in to add comments
---
2008-03-30 15:55:54 Really good, casual Italian. You might want to call ahead for a reservation because it tends to get full quickly. You can always sit at the bar and have a drink if there is a wait. —DanCurran
---
2008-05-06 15:47:55 Great Italian food. Enjoyed many meals here.
Looks and feels like its been there forever.
Hidden on Merchants, but a cant miss. —MrRochester

---
2009-02-09 18:34:51 My wife and I tried this place on a Tuesday night. Very nice, cozy little romantic restaurant. Friendly staff, and the food was phenomenal. I had a sausage-stuffed chicken dish that was jaw-dropping. So tasty! Reasonable prices, too. We'll definitely be back again soon. —KurtSample
---
2009-08-06 13:17:15 i def want to try this place. i always forget about it when im thinking of new places to try. buti have always heard great things about this place. —limeylimer
---
2009-10-12 15:03:54 I had the Pasta Guida, it would have been good if the chef didn't have such a heavy hand for salt. Perhaps he could have instead put all that extra salt in the marinara sauce (served over pasta as a side), as it was incredibly bland. It tasted like plain crushed tomatoes were poured over pasta. Please, add garlic, salt, basil, ANYTHING to give it a little character. I was not impressed with Rizzi's, do not recommed the place, and do not expect to return. —MerCDotes
---
2011-07-23 19:51:15 We live in the neighborhood and had been wanting to try this place for a long time and finally did. Unfortunately we were not impressed. The calamari was chewy and soggy, chicken french lacked artichokes, and steak au poivre was heavy on the peppercorns and salt. The side veggies were undercooked, almost raw. The bread and oil dip was pretty good, but not enough to make up for the rest of the food. The atmosphere is lacking and the cooking style is "old" and uninspired. We were really hoping to like it but we won't be back. —AutumnMarie