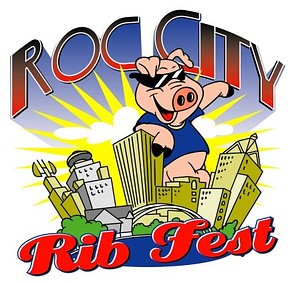 Website Logo
Roc City Rib Fest is an annual festival featuring competitive cooking of ribs, chicken, beef brisket, burgers, steaks, bacon and desserts. This festival is part of the annual Kingsford Points Race and is the Empire State Barbeque Championship. Cash prizes are awarded in the Kansas City Barbecue Society BBQ Competition, Roc City Rib Cook Off, World Bacon Championship, People's Choice Vendor Ribs Competition and Kids Q Competition.
For 2014 it will move to Genesee Valley Park on Memorial Day weekend with public events Friday May 23th to Monday May 26th. Events include a Food Truck Throwdown, various cooking competitions, a kids fun zone, and a variety of food vendors.
Part of the proceeds are used to help out the Ronald McDonald House of Rochester and the Golisano Children's Hospital at Strong.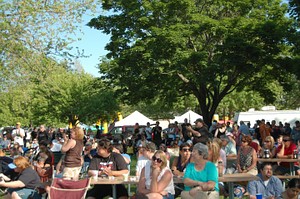 Comments:
Note: You must be logged in to add comments
---
2009-04-04 15:11:44 This is Great to finally have a "real" BBQ competition in the Rochester area. The KCBS sanctioning, with the strict rules and double blind judging, make a fair playing field for local cooks to compete on a national level.
I'm in!!! And I'm looking forward to putting my BBQ up against your BBQ. Let's see what ya got! lol —oompappy

---
2009-04-04 17:02:09 Thanks to the
Roc City Rib Fest Website for linking their pages to RocWiki entries, including this page and our Ontario Beach Park page. Roc On !!! —BradMandell
---
2009-05-26 07:35:12 Went Sunday afternoon hoping to sample some ribs and it seemed like many of the vendors had already left and rib teasers were $5-6. Glad to see the competition and hope it returns next year but it needs to be better organized. —RobertKimmel
---
2009-05-27 17:55:28 Every vendor was there until late Sunday night... —BrianWemett
---
2009-05-27 18:00:02 "Have to say that this event is the benchmark for future competitions. Your hard work, dedication and attention to detail made for a wonderful time. We drove 8 hours to be there and were not in the least bit disappointed (well, except for our scores, but that one is on us;-) ) - Team ZBQ, Rhode Island"
I have 30 more like this —BrianWemett

---
2009-05-29 17:15:02 This was my first event and I have to say the organizers did a fantastic job, went above and beyond my expectations, and cannot wait to do it again, BIG FUN ! " JACKS RACKS " by the way, Brian, Jon, and Todd.... great job ! PS - Jacks Racks placed 17th in Rib Only, not bad for 1st timers —JackMangefrida

---
2009-06-03 10:38:43 17th is a great showing! Thanks for coming out! —BrianWemett
---
2010-04-18 15:23:08 Wow! 70 cooking teams so far for 2010. This is going to be a Great Contest! It's nice to see a lot of WNY'ers entered along with some top national teams. This is a Real Deal BBQ Competition and I'm looking forward to the KCBS event, NEBS grillin' and also seeing who has the Best Ribs in Roc City. —oompappy