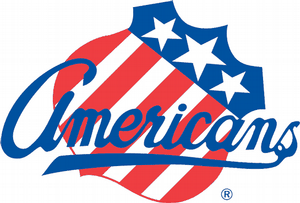 The Rochester Americans hockey team (a.k.a. the "Amerks") is a minor league hockey team that plays in Rochester. The
Buffalo Sabres are their NHL parent team.
Their home games are played at the Blue Cross Arena, and can also be heard live on AM radio station 1280 WHTK.
History
The Amerks joined the American Hockey League in 1956 as the minor-league affiliate of the Montreal Canadiens and Toronto Maple Leafs. During the late 1960s the Amerks were regarded by many observers as the seventh-best team in professional hockey — behind only the six National Hockey League teams.
The Maple Leafs took sole ownership in 1963, and then the franchise was sold to local investors three years later. The team was then sold in an unpopular move to the Vancouver Canucks in 1968.
Local ownership returned in 1972, and Don Cherry, now a hockey icon, was hired out of the high school ranks to run the team. Two years later, in 1974, the team embarked on an affiliation with the Boston Bruins.
The Amerks were previously the minor-league affiliate of the Buffalo Sabres from 1979 until 2008, when they became an affiliate of the
Florida Panthers. They reaffiliated with the Sabres after being sold to the Sabres' owner after the 2010-11 season.
Derek Roy once played for the Amerks.
External links
Twitter Accounts