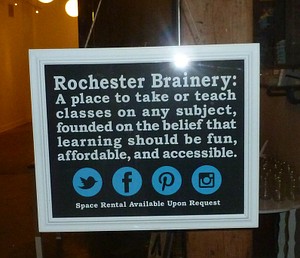 Location
176 Anderson Avenue, Rochester, NY 14607
Hours (as of February 2013)
Varies by event
Phone
585 730 7034
Wheelchair Accessible
Yes
Email
<info AT rochesterbrainery DOT com>
Website
http://RochesterBrainery.com
Facebook
Twitter
Rochester Brainery is a space (formerly in the Village Gate) for anyone who wishes to teach a class or learn something new. All classes are single-session. Prices are $30 or less.
Learn from local authors, artisans, actors, chefs, dancers, mixologists, musicians, flower-arrangers, beer-brewers, graphic designers, financial planners, and more.
Rochester Brainery opened March 1, 2013. They moved to their new location in June 2016.
Links
Comments:
Note: You must be logged in to add comments