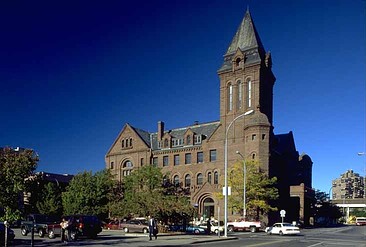 Photo from
Rochester City Website
Address
30 Church St, Rochester NY 14614
Hours
Monday-Friday: 9:00AM to 5:00PM
Saturday-Sunday: Closed
Accessible
Yes
Phone
585 428 7000
New service - Dial 311
Email
<info AT cityofrochester DOT gov>
Website
City Web
was
[http://www.cityofrochester.gov/index.cfm?id=78 CityofRochester.gov City Hall]
City Hall is the seat of government for the City of Rochester governing Rochester, a city in Monroe County in western
New York state on the shores of Lake Ontario.
NOTICE - CITY WEBSITE CHANGES - April 20, 2009 City of Rochester website revision made all prior URLs invalid.
This entry is a stub, a starting point for writing a full entry. You
can help RocWiki by expounding it! Just click the "Edit" icon above.
Photos and References
Comments:
Note: You must be logged in to add comments