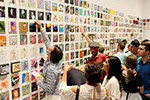 6x6x2017 International Small Artwork Phenomenon opens June 3 at RoCo
Don't miss the opportunity to see thousands of artworks by local and international artists, including YOURS! 6x6x2017 will be the tenth year of 6x6 exhibitions. The gallery exhibition will open for preview May 29-June 2. The opening party is June 3 from 4-10 pm. Sales will begin at 7:30 pm starting with the buyer's choice raffle. Buying will then be open to all once the raffle ends. The 6x6x2017 online gallery will be available for previewing May 19 and global online purchasing will begin June 6 at 10am. 6x6x2017 is RoCo's only fundraiser. Our fundraising goal is to sell 2,500 artworks. All proceeds benefit Rochester Contemporary Art Center. This is a fun initiative that brings together a diverse group of people. It is also an important fundraiser that enables thoughtful contemporary art programming. Artworks from 6x6x2017 will remain on display until July 16, 2017. THANKS FOR YOUR SUPPORT!
Purchase Tickets for the Opening Party:
Members, please call to purchase tickets:
(585) 461-2222
Non-members call or click:
http://www.roco6x6.org/6x6x2017_intro.php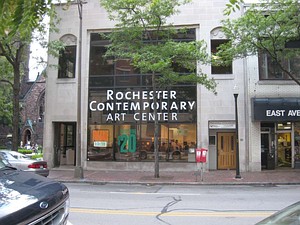 Rochester Contemporary, 06-2008
Location
137 East Avenue, Rochester NY 14604
Hours (as of October 2011)
Wednesday - Sunday: 1:00PM to 5:00PM
Friday: 1:00PM to 9:00PM
Saturday - Sunday: 1:00PM to 5:00PM
Phone
585 461 2222
Wheelchair Accessible
Yes
Email
<info AT rochestercontemporary DOT org>
Website
http://www.RochesterContemporary.org
Rochester Contemporary Art Center is a non-profit art gallery in the East End. It is also a venue for the exchange of ideas.
First Friday, a collaboration between non-profit, university, and commercial art venues, was initiated by Rochester Contemporary Art Center.
Current & Upcoming Exhibitions
The following information was provided by the organization.
It's Not Funny
April 7 - May 13, 2017
Opening Reception: April 7, 6-9 pm
Artist's Talk: April 8 at 1pm
It's Not Funny brings together artists, designers, and collectives who use toys and humor to engage with serious subject matter. The diverse projects featured in this exhibition combine playful objects with unexpected and deeper cultural critique. It's Not Funny includes new and recent work by Airigami (Rochester, NY) Bob Conge AKA Plaseebo (Rochester, NY), Chris Cosnowski (Chicago, IL), Dan Gunderson (DeLand, FL), Dina Goldstein (Tel Aviv, Israel / Vancouver, BC), Jason Schulmerich (Rochester, NY), and Tyler Bohm (Columbus, Ohio).
http://www.rochestercontemporary.org/itsnotfunny.html
Facebook Event Page:
https://www.facebook.com/events/950052311798976/
Exhibit Your Work in the International Phenomenon 6x6x2017
6x6x2017: June 3 - July 16, 2017
Entries Due by: April 16 (don't wait, send yours early!) Postmarked by April 15
Looking for an opportunity to participate in a unique exhibition in 2017? 6x6x2017 is a great opportunity for artists and art lovers alike! Our global exhibition in Rochester, NY is coming up in June, and we would love to have participation from artists of all ages and skill levels. There are no entry fees, no rejections, and no excuses! Entries are due April 16 and details are on our website www.roco6x6.org. You can also visit us at visit us on Facebook at https://www.facebook.com/events/1905564533009771/ and get social using #RoCo6x6!
Makers and Mentors
February 5 - March 13, 2016
Opening Reception: February 5, 6-9pm
Artists' Talk: Saturday, February 6 at 1pm
First Friday: March 4, 6-9pm
Featuring new and recent artworks by:
Sheldon Berlyn (Penn Yan, NY)
Russell Floersch (New York, NY)
Juan Perdiguero (Oswego, NY/Madrid, SP)
Kathleen Sherin (Buffalo, NY)
Gerardo Tan (Manila, PH)
Makers & Mentors highlights the importance of art education in the Western/Central New York Region and celebrates the artwork and influence of the region's accomplished artists. The exhibition series includes Mid/Late career artists exhibiting alongside their former students, many of which have gone on to become educators themselves. This year, Makers & Mentors will include celebrated abstract painter, Sheldon Berlyn and four former students. All studied with Berlyn during his tenure as professor at SUNY at Buffalo from 1962-1999.
http://www.rochestercontemporary.org/makers16.html
Facebook Event Page:
https://www.facebook.com/events/140152726352266/
Wed-Sun 1-5pm and Fri 1-9pm
Non-Member $2 / Members Free
info@rochestercontemporary.org
585-461-2222
The Ordinary and the Divine
April 1 - May 13, 2016
Opening Reception: April 1, 6-9pm
Artist's Talk: Sat. April 2 at 1pm
First Friday: May 6, 6-9pm
The Ordinary and the Divine is a special exhibition of over 40 new paintings by Kathy Calderwood. This show is Calderwood's largest solo exhibition in over 20 years and will include the latest paintings from her ongoing projects The Hall of Suitors and Paramours and The Sacramental Objects.
http://www.rochestercontemporary.org/calderwood.html
6x6x2016
Visit the International Small Art Phenomenon 6x6x2016!
6x6 is an international phenomenon of thousands of artworks, made by artists from all around the world. They are donated to us by famous artists, hobbyists, celebrities, children, etc. Each work is sold for $20 each to benefit the Rochester Contemporary Art Center and artists' names will be revealed to the buyer upon purchase. All works remain on display through July 17, 2016.
June 6 - July 12, 2015
Artwork Entries Due: April 17 (Postmarked April 16)
Global Online Preview Begins: May 20 at 10am
In Gallery Preview (no purchasing): May 30 - June 3, 1-9pm
Opening Party & Artwork Sale: June 4, 4-10pm (admission: $10)
    7:30pm raffle for buyer position 1-20
    8:00pm purchasing open for all other buyers
Global Online Purchasing Begins: June 7 at 10am
Artwork Purchase Price: $20 each
Sold Out Artists' Names Revealed Online: July 1
Purchased Artwork Pick-Up: July 17-20, 12-8pm
Support Contemporary Art
Rochester Contemporary Art Center's (RoCo), international small art phenomenon returns for the 8th year!
6x6 Returns for the 9th Year
Last years exhibition included over 6,700 artworks from 65 different countries and every US State! Past international artists contributors include Philip Glass, Jerry Uelsmann, Carl Chiarenza, Nathan Lyons, Joan Lyons, John Pfahl, Bill Viola, Dexter Dalwood, Wendell Castle, and many more. Past celebrity artists include Thich Nhat Hahn, Louise Slaughter, and Andrea Barrett among others.
Questions: For more information and an informative list of FAQ's visit our website: www.roco6x6.org
Rochester Contemporary Art Center
137 East Avenue
Rochester, NY 14604 USA
Comments:
Note: You must be logged in to add comments