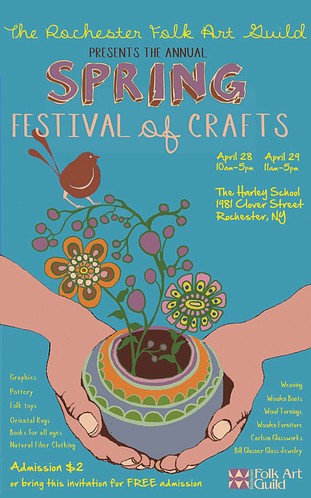 The Rochester Folk Art Guild is a community of craftspeople and farmers in Middlesex. They are a non-profit group, located on a 350-acre working farm, sustaining their organization through the sale of their crafts.
The craft studios of the Rochester Folk Art Guild produce ceramics, wood turnings, wooden toys, furniture and boats, hand-woven items, and clothing made from natural fibers. Their crafts are for sale through their online store,
a store on etsy.com, at
East Hill Gallery, at many shops in Rochester and the Finger lakes, and at annual exhibitions of their work in Rochester, Syracuse, and Buffalo.
East Hill CSA is a project of the Folk Art Guild, delivering organically grown produce to families and individuals in Rochester and Middlesex. Members of the CSA can pick up at the JCC in Brighton or at the farm in Middlesex.
The Folk Art Guild is a place of craftsmanship, apprenticeship, and living close to the land. Our mission is to sound a note of hope for the human family, by working together, in a small multigenerational communal setting, toward the full integration of hands, heart and mind.

Comments:
Note: You must be logged in to add comments