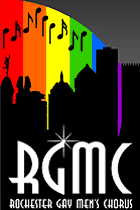 The Rochester Gay Men's Chorus is a local choir. They were founded in 1982 by five friends and today include over 40 members. The RGMC has performed all over the country and is known for their local charity work. They are very prominent in New York State, having inspired the creation of the Buffalo Gay Men's Chorus, the Ithaca Gay Men's Chorus, and the Syracuse Gay & Lesbian Chorus. The RGMC is trans* inclusive and open to allies as well.
The chorus also includes a dance troupe called the Rochettes. Styles include tap, swing, jazz, country, waltz, Broadway, disco, hip-hop, and more.
Rehearsals are held weekly at Downtown United Presbyterian Church.
See also: Rochester Women's Community Chorus
Comments:
Note: You must be logged in to add comments