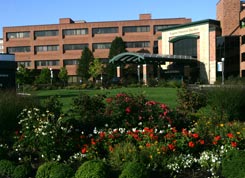 Rochester General Hospital, also known as Northside Hospital, is a hospital on Portland Avenue. It is affiliated with Rochester General Health System.
About Rochester General Hospital
Rochester General Hospital, the flagship of the Rochester General Health System, is a 528-bed acute care, teaching hospital with more than 1,300 medical and dental staff members and more than 7,000 employees serving the Greater Rochester, NY region and beyond. Rochester General Hospital is the fourth largest employer in Rochester and an integral part of the community.
Rochester General offers a full array of health care services to meet the medical needs of upstate New York, including nationally recognized programs in cardiac, cancer, orthopaedics, vascular, robotic surgery and diabetes care. High quality clinical care provided at Rochester General is enhanced by relationships and affiliations with nationally renowned institutions such as the Cleveland Clinic (for cardiac care) and Roswell Park Cancer Institute.
History
Rochester General Hospital began as a fairly modest four-story building on West Main Street in 1864 with a mission of serving the community's poorest citizens.
The hospital's buildings were replaced in 1909 following a large donation by George Eastman. A branch was opened on Portland Avenue in 1956, and it fully replaced the Main Street facility a decade later.
See TWIG for the history of the community support group that has been so supportive of the hospital since 1887, including the TWIG Birthing Center.
Comments:
Note: You must be logged in to add comments
---
2006-08-10 20:10:21 Had a very poor experience-their parking garages are card entered/exited only. No attendants. If you drive a handicap van don't expect to park real easily —PeteB
---
2007-03-12 19:19:43 Anyone else remember when this was called Northside? I'm not that old and I call it that...most people look at me like I'm nuts but every so often I get I broad smile out of people who do remember the old name. —RobinNicole
---
2007-06-21 14:13:18 Peter, the Carter Street Garage is that way, but the Portland Garage has attendants. A new main entrance to the hospital is opening in November of this year and the main lobby will be connected directly to the Portland Garage, making everyting a little less confusing and easier to get around. —SaraChristine
---
2010-02-15 23:12:00 I am shocked an appalled at the level of service in this hospital. I went to visit a patient at this hospital, where he had recently been sent for a psych evaluation. No physician was in the psych ward that day, the staff berated the patients, and the one person able to help my friend was absolutely horrific. She took hours before pulling him out to the hallway to chat (HIPAA violation anyone?) where other patients could hear, and then returned him to an area with other psych patients who were obviously unstable. No staff was watching over these patients, and the nursing staff seems incompentent (AT BEST). I'm sickened by the experience I had. They refused a transfer to a different hospital, even after not providing any real care for 8 and a half hours. I'm not only shocked, but I plan to tell everyone I know about the poor experience I had there. —MarieJones
---
2010-02-15 23:17:46 Marie—don't let this go. Please call the Hospital and speak to their Human Resources Department @ (585) 922-4000—or leave me a way to contact you further and I can give you a better way to address this. —PeteB