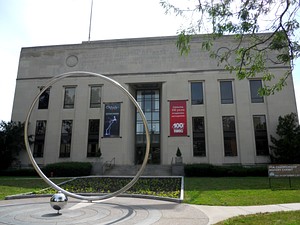 Rochester Museum & Science Center 8-2013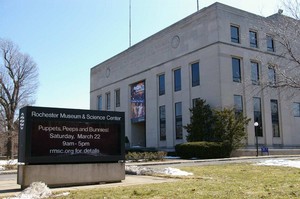 Rochester Museum & Science Center 3-2008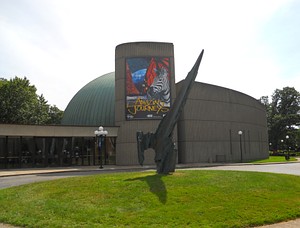 The Strasenburgh Planetarium 8-2013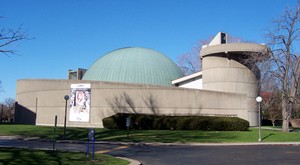 The Strasenburgh Planetarium is located on the campus of the RMSC. By TobinFricke
The mission of the Rochester Museum & Science Center is to stimulate broad community interest and understanding of science and technology, and their impact—past, present, future—on our lives. The RMSC receives funding from Monroe County.
Established in 1912 as the City of Rochester, New York's Municipal Museum, today's Rochester Museum & Science Center (RMSC) includes a hands-on science museum, the Strasenburgh Planetarium, the RMSC Preschool, and the Eisenhart Auditorium, all located on a 13-acre campus on East Avenue in Rochester. The Genesee Community Charter School is also based on the campus. The RMSC's 900-acre Cumming Nature Center is located in the Bristol Hills south of Rochester near Naples, NY.
Inspiring, grade-appropriate, standards-connected programs are available for school visits at the museum & science center, planetarium, and nature center. The RMSC also provides a variety of professional development opportunities for teachers.
The Museum & Science Center offers three floors of hands-on experiences exploring science and technology, natural science, and our region's cultural heritage. In addition to ongoing favorites such as Expedition Earth and AdventureZone, several new traveling exhibitions each year make the RMSC a popular destination for families.
In addition to exhibitions, the RMSC offers family activities on weekends and school breaks, classes for youth and adults, and a summer camp program. An online catalog features selections from the 1.2 million objects and archives in the RMSC's collection.
Since opening in 1968, the Strasenburgh Planetarium has been greater Rochester's source of information about astronomical events, space missions, and breaking news of the universe.
Public presentations include astronomy shows, giant-screen films, and laser light shows. April through October, the Planetarium's 12.5-inch diameter reflecting telescope is available for free public viewing on Saturday evenings. The Challenger Learning Center, a service of Monroe #1 BOCES, offers high-tech, hands-on space mission simulations to school groups and the public.
The RMSC Cumming Nature Center is located 40 minutes south of Rochester, New York in the Finger Lakes region near the village of Naples.
Groomed woodland trails accommodate hikers in spring, summer, and fall, and cross-country skiers in the winter months. Restrooms and snacks are available in the visitor's center.
In 2012 RMSC celebrated its 100 year anniversary. They have also announced a future expansion project that will connect the Strasenburgh Planetarium to the main building. The new "Gateway" will house a new gift shop, cafe, and meeting rooms.
Photos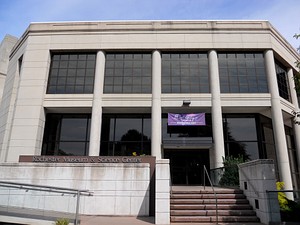 Side Entrance 8-2013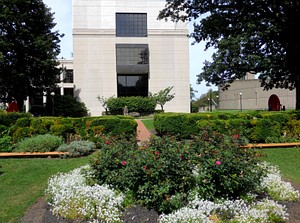 Garden in the Back 8-2013
Comments:
Note: You must be logged in to add comments
---
2010-01-17 20:28:13 Titanic- is a waste. With great anticipation we planned to see the Titanic exhibit before it closed, I wish it had. If you are interested in a cramped, slow moving line, after spending $21 per person to see a few tea cups and a few other personal items, this is the ticket for you. What a disappointment, save your money. Maybe I was short sighted on what we could expect but we had a better time looking at the other exhibits. Another poor aspect of the Titanic was there were photos, video and display cases that broadcast a narrative over a portable headphone, this was an additional $5 and was never even offered to us. Save your money and go to the art museum. —Lou
---
2010-01-20 12:00:04 The Titanic thing was interesting, didn't necessarily blow me away, but it was worth the price of admission to see bits and pieces of a major event in history. To the poster above, I'm not sure what you expected...perhaps you can see the more interesting stuff next time you are 2.5 miles underwater in the Atlantic? —JohnBarry
---
2012-03-22 10:19:11 I saw Jupiter and Saturn with their telescope and it was awe inspiring. —DamianKumor