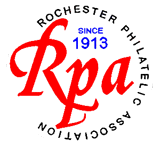 The Rochester Philatelic Association (RPA) was formed by 13 stamp collectors in 1913 as a way to share their common interest in philately. Current membership has grown to 98, with members residing in nine states and Canada. We're one of America's most active (and we believe friendliest!) stamp clubs. Read all about us and what we can offer you!
Whether you're a beginner or specialist, the RPA offers you many services and benefits. Our newsletter, "Hinges & Tongs," is filled with articles about collecting in general and informs members about upcoming meetings and events. The club's philatelic library holds several hundred books, magazines and periodicals, including worldwide catalogs. These may be borrowed without cost by RPA members.
For those in the upstate New York area, we invite you to attend RPA meetings in person. They take place on the second and fourth Thursdays of most months between September and June, November and December only once on the second Thursday. Meetings are at the Brighton Reformed Church at 805 Blossom Road off I-490. Buy/sell/trade runs from 7:00-7:30 PM, followed by the formal meeting at 7:30 PM. A silent auction concludes most evening's program.
A not-for-profit organization.
Comments:
Note: You must be logged in to add comments