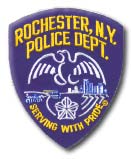 Location
185 Exchange Blvd, Rochester NY 14614
Hours (as of February 2008)
Daily: 8:00AM to 11:00PM
Phone
Emergencies: 911
Non-Emergencies: 311
Website
http://www.CityOfRochester.gov/Police/
The Rochester Police Department is the police agency overseeing the City of Rochester.
History
On December 28, 1819, the first night watch was created in the village of Rochesterville. In 1853, the city's first police chief, Addy Van Slyck, was hired with a salary of $900 per year to oversee the night watch and the constables of the since-incorporated city of Rochester. In 1904, Charles J. Lawrence became the first city traffic policeman. The police force was later re-organized and called the "Metropolitan Police".
Current
The current police chief is Michael Ciminelli, and the Rochester Police Department is comprised of 725 employees.
Volunteer
RPD has several volunteer programs for citizen action against crime, see RPD - Citizen Volunteers for information about the Police and Citizens together Against Crime (PAC TAC) and Community Volunteer Response Team (CVRT) programs.
Comments:
Note: You must be logged in to add comments
---
2017-01-22 22:09:21 Michael Ciminelli took over as police chief in 2014, and there were 725 on staff at that point. Source:
http://www.democratandchronicle.com/story/news/2014/03/07/rochester-police-department-lovely-warren/6162699/ —FunkyBrewster