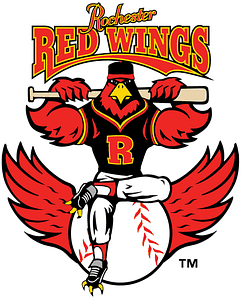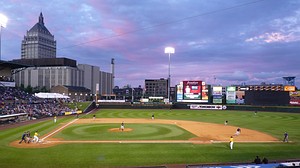 Rochester Red Wings game at Frontier Field. Photo by
_yoshi_
The Rochester Red Wings are Rochester's very own minor-league baseball team. They play their home games at Frontier Field. The Red Wings play in the International League's North Division, and will be the AAA affiliate of the Washington Nationals beginning in 2021.
Frontier Field serves a wide variety of refreshments. Many local food items and drinks are available, including Genny Lite, Zweigles Hots, and Rohrbach's beer.
In a typical season Fireworks are set off after many night games!
If you go to a game, be sure to wave to the spectators on the roof of Buckingham Commons!
History
Professional baseball in Rochester can be traced to 1877. The Red Wings moniker dates to 1928, when the St. Louis Cardinals of the National League purchased the franchise and constructed Red Wing Stadium (later renamed to Silver Stadium) on Norton Street.
The franchise averted disaster in 1956 when Morrie Silver led a community stock drive to purchase the club from the Cardinals, who intended to drop the franchise from their player development system. The affiliation between the clubs actually lasted until the start of the 1961 season when the Wings hooked up with the Baltimore Orioles, a relationship that lasted a remarkable 42 seasons until Rochester signed a player development agreement with the Minnesota Twins for 2003. This affiliation lasted through the 2020 season (although there was no minor league baseball that year due to the pandemic).
A number of noteworthy players and managers — including Stan Musial, Bob Gibson, Don Baylor, Boog Powell, Earl Weaver, Jim Palmer,
Cal Ripken Jr. and Eddie Murray — came through Rochester en route to distinguished major-league careers.
For a more complete list of Red Wings Alumni check out the Alumni page.
The Red Wings hold the world record for
longest baseball game. In 1981 for playing a 33-inning game against the Pawtucket Red Sox in Rhode Island. The Redwings lost 3-2.
The Red Wings moved from Silver Stadium to Frontier Field in 1997.
Awards
Voted "Best Local Men's Sports Team" in City Newspaper's 'Best of Rochester' Awards in 2015.1


Voted "Favorite Local Sports Team" in the Democrat & Chronicle's Rochester's Choice Awards for six years straight, from 2002 to 2007.


Voted "Best Local Sports Team" in City Newspaper's 'Best Of' Awards in 2008, 2009, and 2010.234
Comments:
Note: You must be logged in to add comments
---
2007-01-29 14:12:38 I'm starting to have dreams about Rohrbachs Scotch Ale and Red Osier beef on weck. Looks like it's going to be a great season! —EastSideStephen
---
2010-05-19 08:03:35 Best team ever!!!!!!! —RobRadley
---
2011-04-09 11:42:08 Out of all the things that have been done Downtown and failed miserably, Frontier Field is a shining example of what happens when something is done right. I love taking a game in here.. the location is perfect! —BatGuano
---
2011-08-01 09:49:12 I don't think I've ever been to a better minor league game than the one on Saturday, great fireworks and the mascot of funny. Good beer, but I'd skip on Red Wings Ale and for the Scotch Ale. I almost want to say this game is a fluke, since I've been to 3 or 4 games and this is the only one I can say was better than fair. But I only really get out to one a year. —DamianKumor