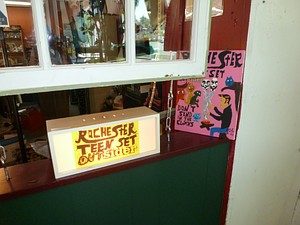 Signs outside Utter Clutter
Rochester Teen Set Outsider is an independent 'zine published roughly once a month by William Carroll since February 2010. Described as a "Rochester-themed Mad Magazine," Teen Set features rumors, reviews, comics, jokes, and exposes. They accept readers submissions and are especially interested in high school stories, short stories about obsessions, questions for the advice column, and dreams for analysis. In its short existence the 'zine has achieved something of a cult following and is even sold outside the state.
Part of the name derives from Carroll's hatred of the late Rochester Insider magazine.
Rochester Teen Set Outsider may be purchased locally for $1 at the following locations:
Elsewhere, it can be purchased here:
Back issues are also
available in the University of Rochester Rush Rhees Library.
Comments:
Note: You must be logged in to add comments