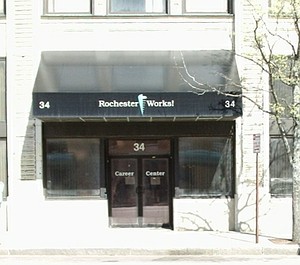 Former St. Paul Street Location
Locations
Phone
255 North Goodman Street , Rochester NY, 14607
585 258 3500
276 Waring Road , Rochester NY, 14609
585 266 7760
Hours (as of December 2013)
Goodman
Monday - Thursday: 8:30AM. to 4:30PM
Friday: 8:30AM to Noon
Waring
Monday - Friday: 8:30AM to 4:30PM
Accessible
Yes
Email
<info AT rochesterworks DOT org>
Website
http://www.RochesterWorks.org
RochesterWorks! is one of the Rochester area primary sources for workforce development and employment assistance. They are a 501(c)(3) non-profit organization.
...Monroe County's largest employment and training initiative, is dedicated to helping Monroe County in the Rochester NY region develop a strong workforce. Services are free of charge and are available at two full-service Career Centers located at 255 North Goodman Street and 276 Waring Road and one satellite Center for training services at 3545 Buffalo Road.

... assists businesses with recruitment, assessment, placement and training, and connects them to all federally-funded employment and training programs in Monroe County.

...helps job seekers find jobs, move to higher paying jobs and get training to improve skills.1
Their website has lots of material for job seekers, employers and folks thinking of career changes. If employment is your need, check them out.

Rochester Works facilitates a monthly networking group - URN - Unemployed Resources Network
Comments:
Note: You must be logged in to add comments