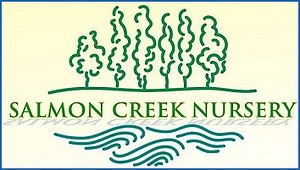 Location
960 Salmon Creek Road, Brockport NY 14420
Hours
1
Call for Hours
Phone
585 637 4497
Accessible
Yes
E-mail
<info AT salmoncreeknursery DOT com>
Website
http://SalmonCreekNursery.com
Salmon Creek Nursery is a landscaping and gardening nursery that has been family owned and operated for 40 years. Located Just 4 miles south of Brockport and 18 minutes west of downtown Rochester, the retail store is

"a welcome surprise in suburban Monroe county. The Stettner family not only prides itself on growing a wide range of high quality nursery stock, but also on their personalized customer service. Salmon Creek Nursery is a full service nursery which carries all of your gardening supplies from bedding plants too large trees and foundation plantings. You will find that they also specialize in design and installation of landscaping.


Take a short drive in the serenity of the country and browse through the acres of nursery stock, You'll be pleasantly surprised.

"
Retail Store Open April 1st until December 1st.

Comments:
Note: You must be logged in to add comments