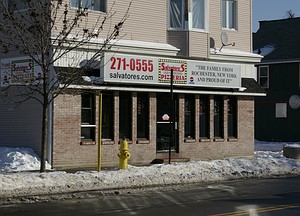 Salvatore's -S. Clinton Ave, 01-09
Dewey Ave Location Feb. 27, 2010 - snow
Salvatore's Old Fashioned Pizzeria is a long-time Rochester chain with locations all around town. They offer pizza, subs, wings, wraps, burgers, and dinners. Catering available.
In addition to their numerous locations in the Rochester area, Salvatore's offers full-menu online ordering, with both delivery and pick-up options.
On January 12, 2010, Salvatore's opened their renovated Donuts Delite building to sell donuts (recipe from family of previous owners) and pizza. Michael Malley, whose family ran Donuts Delite from 1958 until its closing, returned to run the doughnut side of the business. The family agreed to let Fantauzzo use the original recipes for its doughnuts, such as banana cream and the "flying saucer," an oversize glazed donut with cinnamon.
In 2015 Salvatore's debuted its new Speedy Slice concept with its purchase and reopening of the 1872 Cafe. A dedicated Speedy Slice location opened in Beechwood in February 2016. The 1872 Cafe was sold to new owners in 2019; the Beechwood Speedy Slice operation closed after a few years, and planned expansion of the concept never materialized.
Their Scottsville Road location accepts RIT's Tiger Bucks as payment.
In 2022, two Henrietta locations closed and combined in to new larger saloon (bar and restaurant) on Jefferson Road.
Comments:
Note: You must be logged in to add comments
See Archive Page for comments prior to 2010.
---
2010-06-07 10:37:53 Salvatore's pizza is horrendous, especially if you buy one of their soggy "big slices" to eat from the counter. No re-heat in the pizza oven, just a greasy, limp, flavorless, overpriced slab of cheese and bread. And what's with all of the packaging? A styrofoam plate in the pizza box? Last night I received a sub with a side, each packaged in a separate styrofoam box, then all wrapped up in a heavy-duty plastic bag. Even though I enjoy the subs, I'll stop ordering food here just based on the inordinate amount of waste they produce. —ErikReinert
---
2010-09-16 13:36:49 Have gotten delivery from one location on and off for a few years. Has definitely gotten worse. Had one order delivered 3 hours after it was placed. Food was soggy from sitting in the containers too long. When I complained, they told me to eat the food sooner. I opened it within 5 minutes of delivery. It's not my fault they took a long time to deliver. Recently had a pasta dish that was good. Most recent few orders were bad. Boneless wings were dry and overcooked. Chicken in the sub was overcooked. Side of fries were overcooked. Just going to put them on the list of never ordering from again. —MelonPunch
---
2010-09-23 21:55:55 STAY AWAY:
I picked up an order for the 1st time from the Scottsville Rd location on the way home to Gates from work. I ordered a calzone with double mushroom and chicken and a lasagna dinner. The calzone came with no mushrooms at all and there was no cheese on the lasagna. I came all the way home before noticing it and called to ask to speak to a manager. The manager Jeff I spoke with was rude from the beginning. When I told him I was too tired to drive back out there, he said he would credit me the $1 and some odd cents I paid for the mushrooms. I said I thought that was unsatisfactory seeing as my dinner had been ruined. He then offered %10 in a snotty tone. I asked him how I could contact the corporate office to ask for a full calzone to which he yelled at me that the owners wouldn't give me a calzone because they missed a topping. I gave up and hung up. Horrible 1st impression for this location. I had 2 toppings and they missed the most important one. How hard is it to remember 2 toppings?

I understand mistakes happen but this is the worst customer service I have ever seen. Jeff is a horrible manager and deserves to be fired unless this is the way they want to represent themselves.

---
2010-09-23 23:10:20 One night about two minutes before closing I walked into the Main Street location looking for some slices for the wife. I walked out paying $5 for a large pepperoni pizza that someone didn't pick up. The pizza was good but possibly made better by the low price. I wouldn't call Salvatore's my favorite, by any means, but the Main Street location, at the very least, has good customer service. —BatGuano
---
2010-10-06 13:02:25 An additional note about packaging. My wife went to the Donuts Delite location to pick a few during a day working on the house. She asked for minimal packaging (i.e., just the box, not the bag they normally put it in). They complied, but when she added a newspaper onto her order at the last minute, they bagged THAT! Ridiculous. —ErikReinert
---
2010-10-27 00:43:23 Lowest common denominator pizza in Rochester. Go elsewhere for GOOD pizza. —SargtGrumbles
---
2011-05-27 16:00:29 Great wings & subs at the Webster location, pizza is average Rochester style.
---
2011-06-20 13:44:51 My experience with Salvatores has also been mixed but in general much better than the reviews here. There is a dearth of good pizza delivery in my neighborhood. But! I want to point out that Salvatores are actually individually managed so a review of one location does not necessarily apply to the others. I have always found the quality to be decent but unexciting and the service good at the Monroe Ave location. —RachaelT
---
2012-11-20 21:28:37 I ordered from Macedon location. Besides Marks, the only place that delivers pizza in my location. Have been ordering at least once a week from them. Horrible customer service as they did not give us dressing for our salads. The delivery guy said he would be back quick and never came back. Salads were not eaten and no refund or dressing given. Will not be ordering from them ever again. Managers should be fired. Instead of making things right, they lost a loyal customer. Thanks! —AmitMaster