Photo: View West - Aug 2008, BradMandell
Photo: View East - Aug 2008, BradMandell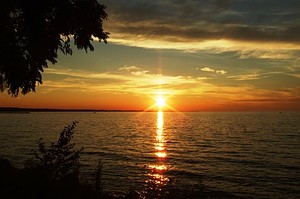 Photo: Sunset - Aug 2008, BradMandell
Sandbar Park is a park operated by the Town of Webster that offers one of the most wonderful places to watch a sunset.

... set on the shores of Lake Ontario and Irondequoit Bay. Enjoy a picnic any time of the day and in any season. Remember all parks are carry in and carry out.
The park is next to Castaways on the Lake, a few hundred yards from the Seaway Trail intersection of Bay Road and Lake Road. Just west of the park is the Irondequoit Bay Outlet, another great place to watch a sunset.
If you see a sunset brewing, take someone you care about (even if it is just YOU) north on Bay Road off of Route 104, stop and pick up a beverage, snack or deli sandwich at the Bay Road Deli, turn left onto Lake Road, pull into the parking lot on the right. Now it is up to you to RELAX and enjoy a glorious few moments just waiting for that sunset. 2.
*
Sandbar Park, Maps, history, photos, and description on the commercial website nyfalls.com
Suggestions for some other pre-park stops:

Baytown Plaza shopping district - head south less than 2 miles on Bay Road (from Route 104)and stop to pick up something to "carry-in" from a variety of sources. Some suggestions:


Eastway Liquor - a nice, but inexpensive, wine to go with your bread and cheese.


Wegmans - how about a sandwich, something from the deli, a chunk of bread to rip apart with some cheese - WOW


Herman's Farm Market - shoot up Five Mile Line Road from Route 104 for some fruit or veggies to share - maybe even a flower for your loved one. Continue north to a left on Klem and a right back onto Bay Rd.

Sandbar Park, History, photos, and description on the commercial website nyfalls.com
Comments:
Note: You must be logged in to add comments