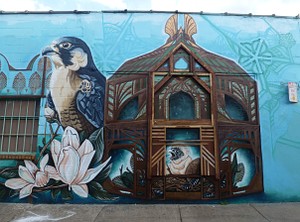 Rutherford's Wall\Therapy Mural at Natural Oasis Cafe.
Sarah C. Rutherford is a prominent local artist. She is co-founder of The Yards and a contributor to Wall\Therapy, both as an administrator and publicist and as a muralist herself. She has also done murals at Highland Hospital (along with Yards co-owner Lea Rizzo) and illustrations for City Newspaper.
Rutherford's work has also appeared in the New York Times Magazine.
Links
Comments:
Note: You must be logged in to add comments