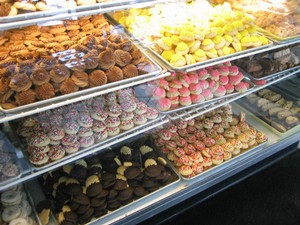 Cookies at Savoia's 6-2007
Location
2267 Clifford Ave., Rochester, NY 14609
Hours (as of January 2013)
Monday - Friday: 7:30AM to 6:00PM
Saturday: 9:00AM to 6:00PM
Sunday: 9:00AM to 2:00PM
Phone
585 482 1130
Wheelchair Accessible
Yes
Website
http://www.SavoiaPastry.com/
Facebook
Savoia's Pastry Shoppe is a bakery that has been family owned and operated since 1929. They offer Italian biscotti, pastries, spumoni and ices all of which are original products. Added menu items include fancy tea cookies, Italian and French breads, specialty breads, foccacia, dessert cakes, cream pies and kuchens. Their website says they are now making wedding cakes for the third generation of area families since they opened.
Savoia breads and mini-pizzas are also available for purchase at the cafe
Connections in Rush Rhees Library at the University of Rochester.
Located on Clifford Avenue in the Homestead Heights neighborhood.
Awards
Savoia's was voted "Best Bakery" in City Newspaper's 'Best of Rochester' Awards in 2009, 2010, and 2015.123
Comments:
Note: You must be logged in to add comments
---
2006-01-03 20:32:40 Every time I have an excuse to walk in there I do. If anything you have to at least sample a cannoli or 3. Best in Rochester. —RickUrwin
---
2006-07-28 20:26:21 We got a tiramisu cake from there for a party recently and it was TO DIE FOR. —JcPop
---
2007-02-17 18:40:54 I made a trip up there today after reading RickUrwin's comments. The Cannoli was super yummy. —AdamDewitz
---
2007-03-26 18:11:24 Everytime I realize I am in this area, I stop at Savoia. Yummy stuff! I usually buy whatever is the special that day, and some cookies. Sometimes there is a coupon in the City Paper. —KimBee
---
2007-10-21 23:31:09 I was told to go here, for the best cannoli in Rochester. WRONG!!!!! Not only was my cannoli dry, and tasted old, but the salesgirl was rude! —MikeWilliams
---
2007-11-19 11:27:05 Just found out this place exists, and is only like a mile from my house. I picked up a loaf of Italian bread for the chili I made and it was fantastic stuff. Real soft. I also grabbed a cannoli and it was great. I'll be back for more of those. I cant wait to try the cookies. —GeorgeBluth
---
2008-08-26 14:52:00 Italian cookies are top notch, my favorite are the fig-filled ones with the frosting but I wouldn't say no to any of them if offered. Not a huge fan of their cakes though. —JaimeTe
---
2011-12-27 14:58:20 I went by on Christmas eve on the way to the public market, and at 10AM there was a line out of the door. —DamianKumor
---
2012-04-15 20:33:58 BEST ITALIAN BAKERY in roc. Better than the ones in East Roc. Hands down! The almond cookies. Mmmmm. —xanthm
---
2014-02-19 18:26:25 I can not think of a more over rated bakery in Rochester! I am not a fan of italian cookies or anything with almond or anisette in it so I can not speak to their italian desserts they offer. However their cakes look so delicious and tastes so bland. Its disappointing. —jcs3636