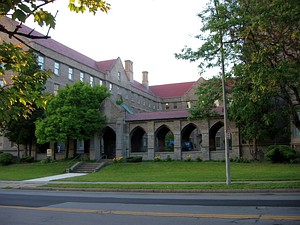 SOTA Flickr Photo by
mahteetagong
School of the Arts was opened as a magnet school in 1981 by the Rochester City School District, though it wasn't until September 1994 that the CSD opened its current facility in Rochester's Neighborhood of the Arts at 45 Prince Street at University.
The 1920-vintage building is the former dorm for Eastman School of Music students, who now reside on Gibbs Street downtown. A modern expansion of the original building contains three theaters, a "commons" area for meals, dance studios, and the school's athletic facilities.
The School of the Arts requires students to take a full academic course load and also complete an arts sequence in writing, music, theater technology, dance, drama or visual arts.
Notes and References