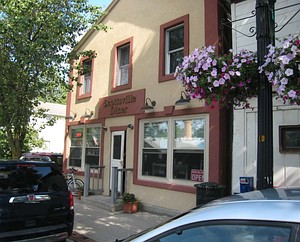 Scottsville Diner, 6-2008
Location
46 Main Street, Scottsville, NY 14546
Hours
1
Monday - Friday: 6:00AM to 8:00PM
Saturday, Sunday: 7:00AM to 2:00PM
Phone
585 889 7620
Accessible
No
Website
Facebook
Reviews
Yahoo Local
Scottsville Diner is a small diner on Main Street in Scottsville.

Comments:
Note: You must be logged in to add comments
---
2007-08-27 00:30:59 One of my all time favorite "get away" diners. It's only 15 minutes out of town, but i swear it's like entering a time warp or something. The food is really good, not greasy or crappy.
Super cheap.
The staff is pretty awesome too.
Yeah. Scottsville Diner! —PaulineColes

---
2007-09-18 11:00:41 why does scottsville diner only hire white people —RebeccaJones
---
2007-09-18 12:21:27 It might have something to do with the relatively small number of non-Caucasians in the community. —DaveMahon
---
2008-03-07 13:34:20 There was a person of color working there when we were there for Valentine's Day.
I can't say enough nice things about this restaurant. Great, great food, the best customer service around! When my husband and I go, we have trouble choosing what to order b/c it is all so good. And I love how affordable it is. —LauraKuhn

---
2008-04-22 18:44:28 Just had lunch here with the guys from work, and it was definitely a high point of the day — excellent food, far from the all-too-common greasy diner fare. We'll return here, for sure! —TracyLogan
---
2008-06-09 17:36:24 excellent. They have a front room (for bright and cheery table time) and a back room (for dark brooding booth time) and a bar(dry). When I was there, contrary to RebeccaJones' account, the staff was inclusive of non-caucasians. Breakfast was excellent. —EugeneCain
---
2008-06-22 17:25:22 One of our favorite motorcycle breakfast destinations, a nice ride without being too far away. Food is basic but always good, friendly staff. —DottieHoffmann
---
2009-03-18 14:54:19 We loves this place. Breakfast is always available. If you want something a little different than what's on the menu, they have no problems with it. Vegetarians have no problems coming here. Don't want meat on the meal, just ask for it without it. They also have garden burgers. Wonderful decorations for the seasons and holidays.
Walk right on in and find a place to sit!! Closed early on weekends, so get there before 2pm.
Don't want to eat in? Order it to go.
You don't even know your eating at a diner! Come check it out. We love it. —jenabailey