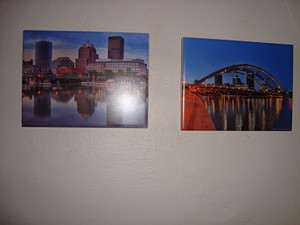 A pair of Vincent photo tiles from Image City hanging in a Rochester apartment. (Sept. 2011)
Sheridan Vincent is a prominent local photographer known for his panoramic images of Rochester and the surrounding area. He is originally from the Midwest but moved here in 1974 to work for Eastman Kodak. He was part of their Photographic Technology Division for 31 years until his retirement in 2005.
Vincent's photographic specialty is in using digital techniques to create sharp, striking fine art photographs. He is a partner at Image City Photography Gallery, where he can often be found working. An exhibition of his work, "Rochester Moments," ran there from September 7 to October 2, 2011. A series of photographs of the University of Rochester may also be purchased as posters at their
bookstore. The High Falls Gift Shop also carries his work.
Comments:
Note: You must be logged in to add comments