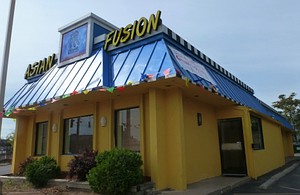 Previous location
Location
274 North Goodman Street, Rochester, NY 14607
Hours (as of October 2018)
Monday - Thursday: 11:00AM to 10:00PM
Friday - Saturday: 11:00AM to 11:00PM
Sunday: 12:00PM to 10:00PM
Phone
585 546 6525
Wheelchair Accessible
Yes
Alcohol
Yes
Email
<jameszou2013 AT gmail DOT com>
Website
Facebook
Reviews
2014-01-08 Democrat and Chronicle
Shui Asian Fusion is a pan-Asian eatery in the Village gate, after they moved from the corner of University Avenue and East Main Street. Their food is primarily a mix of Chinese and Thai, along with some Korean. There is a weekday lunch special menu where everything is $6.95. They can also make anything on their menu gluten-free.
Online ordering and delivery available via
GrubHub.com.
Shui Asian Fusion opened in August of 2013.
Comments:
Note: You must be logged in to add comments
---
2013-08-25 17:01:47 Great new addition to the city. Really interesting menu. Well conceived and executed dishes. Would highly recommend. —JustinCoyne