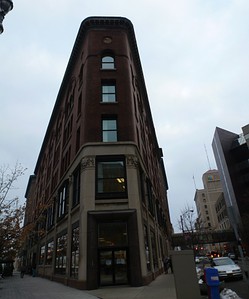 The Sibley Triangle Building is an historic commercial building in the East End. It is located on the corner of East Avenue and East Main. It is a famous example of eclectic Italian Renaissance architecture and is similar in shape to the Flatiron Building. It was listed on the National Register of Historic Places in 1985. According to the Landmark Society:
The Sibley Triangle Building, 20-26 East Avenue, at the southeast corner of E. Main Street and East Avenue, was designed by J. Foster Warner and built in 1897. Occupying a prominent site at the intersection of East Avenue and Main Street, this triangular five-story building was constructed by Hiram Sibley – realtor, banker, philanthropist and heir to the fortune amassed by his father, the builder of the Western Union Telegraph Company. Its Neo-Classical and Romanesque design includes large brick arches, a decorative cornice, and an arcade of Roman-arched windows on the fifth floor.1
Not to be confused with either the Sibley Building (located practically across the street) or the Hiram Sibley Building.
Comments:
Note: You must be logged in to add comments