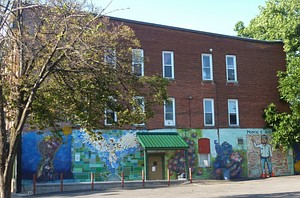 Wall/Therapy mural on the side of the building. (August 2013)
St. Joseph's Neighborhood Center is a nonprofit organization in the South Wedge neighborhood that provides comprehensive health care, counseling, adult education and social work to individuals and families who lack access to health insurance. It was established in 1993 as a ministry of the Sisters of St. Joseph.
The nearby Saint Joseph's House provides food & shelter to the homeless.
Comments:
Note: You must be logged in to add comments