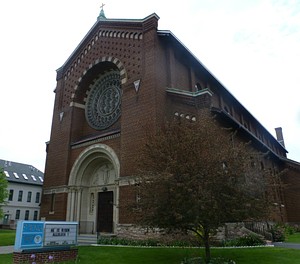 Location
831 Genesee Street, Rochester, NY 14611
Mass Schedule (as of May 2014 per website)
Saturday: 4:00PM
Sunday: 9:00AM
Weekly Masses
Tuesday: 12:10PM
Wednesday: 8:00AM
Thursdays: 5:30PM
Friday: 8:00AM
Phone
585 235 3340
Wheelchair Accessible
Yes
Website
http://www.StMonicaOfRochester.org
Facebook
Pastor
Fr. Raymond H. Fleming
St. Monica Church is a Catholic church in the 19th Ward/Genesee-Jefferson area, very close to Brooks Landing. They are a consolidated parish consisting of the former parishes of St. Augustine, Our Lady of Good Counsel, Ss. Peter & Paul, and St. Monica.
The Westside Farmers' Market is held from June to October in the church's parking lot.
The church building is shared with Emmanuel Church of the Deaf.
Comments:
Note: You must be logged in to add comments