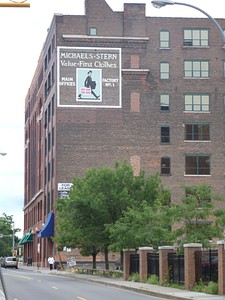 Garment factory turned loft building.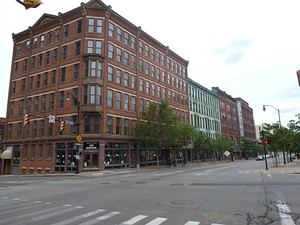 Clubs and restaurants along St. Paul St.
The St. Paul Quarter is a downtown neighborhood once known as "Clothier's Row." From about the 1890s to the mid-twentieth century it was the center of Rochester's huge industry of ready-made men's clothing. Companies with factories and headquarters in this area included the
Adler Brothers & Co.,
Fashion Park, Inc., and
Michaels-Stern & Co. By the 1970s, however, all of Rochester's garment businesses had been lost to the dustbin of history and changing fashions. Only Hickey Freeman remains, located in Group 14621 neighborhood.
Today, the old industrial buildings of Clothier's Row have been converted to the lofts, offices, and retail spaces of the St. Paul Quarter. Famous addresses include Industrie Lofts and the H.H. Warner, Kirstein, Searle, 116 St. Paul, and Smith Gormly buildings. Residential units in this neighborhood tend to be pretty high-end and boast many unique architectural features. Many are located in the St. Paul-North Water Streets Historic District. For people who are elderly or disabled there is Andrews Terrace, an interesting example of contemporary architecture from the 1970s.
The St. Paul Quarter is also a nightlife district known for the former landmark Water Street Music Hall, now Water Street 2020. It was generally considered rougher than the East End, however, with the noise and disorder resulting in residents being afraid to leave their apartments late at night. In December 2013 the last of the disruptive nightclubs was finally shut down. Several buildings along St. Paul Street are now being developed into a mixed-use urban village called
The Hive, which promises additional cool lofts and more space for retail and dining. The St. Paul Quarter also became the region's bus hub with the opening of the RTS Transit Center in November 2014, which was accompanied by the re-conversion of St. Paul Street into a two-way lane.
The Pont de Rennes bridge connects this neighborhood to the High Falls District.
Establishments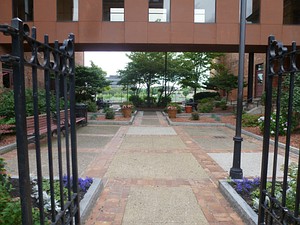 Private riverfront garden on Water Street.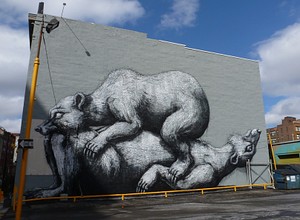 The infamous "Sleeping Bears" mural from Wall\Therapy 2012.
Food and Entertainment
Retail
Services
Other
See also
Comments:
Note: You must be logged in to add comments