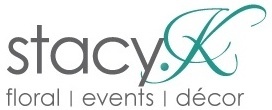 Location
43 Russell St., Rochester, NY 14607
Hours (as of July 2016)
Monday - Friday: 9:00AM to 6:00PM
Saturday: 9:00AM to 5:00PM
Phone
585 244 1414
Wheelchair Accessible
No
Email
<stacy AT stacykfloral DOT com>
Website
http://www.StacyKFloral.com
Facebook
Twitter
Stacy K Floral is an event design firm and florist owned by former landscaper Stacy Ercan (née Kellogg) and headquartered on Park Avenue. They are available for weddings and specialize in headpieces, sympathy designs, organic sculptures, and daily flower arrangement and delivery. Non-floral options are also available.
Stacy K is also a gift store that sells soap rocks, candles, recycled purses, artwork, jewelry, stuffed animals, and other items.
Located at the rear of the building.
Comments:
Note: You must be logged in to add comments