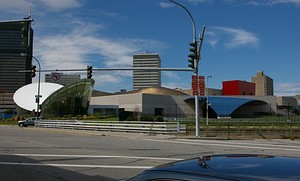 Strong, hard to get it all in one shot! This is the back, seen from Monroe Ave. 8-2008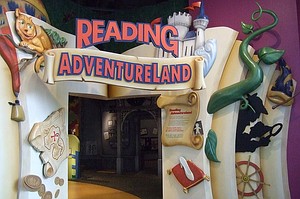 Reading Adventureland with
Flat Stanley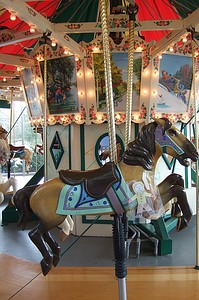 Carousel Ride for
Flat Stanley
Location
1 Manhattan Square Dr, Rochester, NY 14607
Hours (as of August 2009)
Monday – Thursday: 10:00AM to 5:00PM
Friday & Saturday: 10:00AM to 8:00PM
Sunday: Noon to 5:00PM
(Closed on Thanksgiving and Christmas Days)
Phone
585 263 2700
Accessible
Yes
Website
http://www.MuseumOfPlay.org/
Wikipedia
Wikipedia Article
The National Museum of Play located in Rochester and part of The Strong, documents the history of play in American culture and provides an exciting, hand-on, welcoming pace to play, learn, and dream; a place to pretend, wonder, and explore, a place to discover the past and imagine the future; and a place to rekindle memories and make new ones.1
"Established in 1969 and based initially on the personal collection of Margaret Woodbury Strong, the museum opened to the public in 1982. Since then it has refined and increased its collections, which number more than 500,000 items, and expanded twice, in 1997 and 2006. The museum is part of The Strong which is also home to the National Toy Hall of Fame, the International Center for the History of Electronic Games, and the Brian Sutton-Smith Library and Archives of Play and produces the American Journal of Play.
Known originally as the Margaret Woodbury Strong Museum and later simply as the Strong Museum, it became the Strong National Museum of Play in 2006, after completing renovations and an expansion that nearly doubled its size to 282,000 square feet. It became the National Museum of Play in 2010. It is the only collections-based museum anywhere devoted solely to the study of play.2"
Membership to the museum provides free admission for a year and access to a number of affiliated museums around the northeast.
See also information about the associated International Center for the History of Electronic Games.
Major Attraction for Kids
Although at its heart it is a history museum, the National Museum of Play is a well-developed children's museum, making it the second largest museum of that type in the United States. The museum includes exhibits that interpret the key elements of play, as well as allowing kids to explore the worlds of
Sesame Street, the
Berenstain Bears, Reading Adventureland, and the Dancing Wings Butterfly Garden The museum is home to the Rainbow Reef salt water aquarium. The final stop before leaving is usually the Elaine Wilson Carousel, built by
Allan-Herschel Company of Tonawanda, NY in 1918.
Library
The Museum also contains the
Grada Hopeman Gelser Library, a branch of the Rochester Public Library system. This is a regular circulating library that specializes in children's books for all ages and reading levels.
Food
The Strong Museum features a food court with a Pizza Hut, Taco Bell, Subway, Bill Gray's and a Louie's Sweet Shoppe, all accessible to the general public without paying the museum's admission fee. This is a great option for downtown visitors and workers who are looking for that fast food fix (that many do not even know exist) within the inner loop. A pedestrian entrance is located on Manhattan Square Drive, directly across from the ice skating rink at Martin Luther King Jr. Memorial Park.
Photos
See Flat Stanley's Visit in March 2009 - Flickr photo album by BradMandell.
See Also
Comments:
Note: You must be logged in to add comments
---
2013-01-13 09:38:12 Love it, the kids have a great time there. Great even for toddlers that are between crawling and walking. —lan99