Sunrise and Sunset can be an especially treasured time in our Rochester area. We devote this page for folks to share their thoughts on how the glory of either time of day is especially beautiful or poignant for our residence and visitors.
References

---
Sunrise
Sunrise Shooting Tips and Locations
Rochester Sunrise Photos
---
Sunset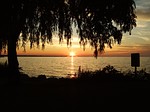 Sandbar Park - BradMandell Sunset Shooting Tips and Locations

Sandbar Park, Webster is located directly on the lake with great, direct over the water shots in season. Local trees make excellent frames for shots. On busy boating days can get boat traffic within the photos as well.
Rochester Sunset Photos

---
Comments:
Note: You must be logged in to add comments