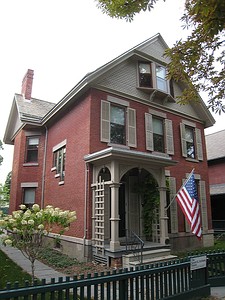 The Susan B Anthony House, 9 - 2008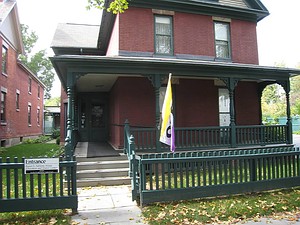 Visitor center next door, 9 - 2008
Location
17 Madison Street, Rochester, NY 14609
Hours (as of May 2010 per Phone Call)
Tuesday through Sunday: 11:00AM to 5:00PM
Phone
585 235 6124
Website
https://susanb.org/
The Susan B. Anthony House is a national attraction located in southwest Rochester's Susan B. Anthony Neighborhood. Home to Susan B. Anthony for many years, it is now a museum dedicated to her life and work. While you are visiting, stroll over to the nearby Susan B. Anthony Square Park to see it's well-known sculpture.
From the Website
The National Susan B. Anthony Museum & House shares the story of Susan B. Anthony's lifelong struggle to gain voting rights for women and equal rights for all. We keep her vision alive and relevant by preserving and sharing Anthony's National Historic Landmark home; collecting artifacts and research materials directly related to her life and work; and making these resources available to the public through tours, publications, the internet, and interpretive programs.
Arson
In
September 2021 an arsonist set fire to the back porch on the Susan B Anthony House, destroying much of the porch and causing some smoke damage to the house. In
February 2022 a second fire was set behind 19 Madison Street, the museum visitor center. Museum president Deborah Hughes estimates the damage will end up costing about 80-thousand dollars.
Comments:
Note: You must be logged in to add comments
---
2006-05-08 14:31:40 There is some good info on the arrest at
http://jurist.law.pitt.edu/trials14.htm —FarMcKon