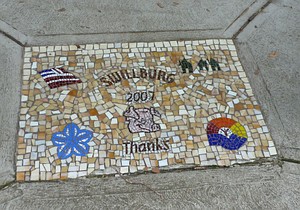 Mosaic in the Otto Henderberg Park gazebo, commemorating its construction and the Swillburg community.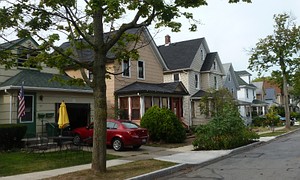 Swillburg is a residential neighborhood of narrow streets, compact lots and modest homes with a real feel of intimacy. It shares a busy commercial border with the Highland Park Neighborhood along South Clinton Avenue and a small part of South Goodman Street. Both neighborhoods are often lumped in with the South Wedge.
The neighborhood's unusual name dates back to the 19th Century, when George Goebel ran one of the city's most prominent pig farms and collected garbage for swill for their feed.
The Swillburg Neighborhood Association maintains a number of beautiful gardens and holds a holiday light-decorating contest and caroling party. Other attractions include the Swillburg Art and History Project, a series of murals on Pembroke Street by artist
Maria Friske, as well as many beautiful, historic homes with well-maintained gardens and friendly owners. The former home of Cab Calloway is located on Sycamore Street. A local green space is Otto Henderberg Park, while both Cobbs Hill Park and Highland Park are within walking distance.
Amenities
Barbershops and Salons
Bars
Restaurants
Retail
Other
Links
Comments:
Note: You must be logged in to add comments