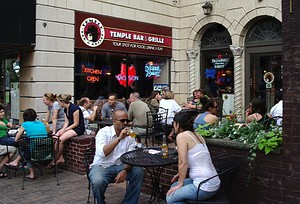 Patio is full on a nice summer day, 5-2010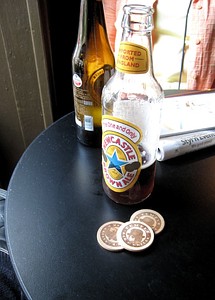 2 for 1 tokens at the Temple Bar & Grille, 06-2008
Temple Bar & Grille is a bar and grill in the East End. They offer a selection of appetizers, salads, paninis, wraps, burgers, sandwiches and desserts to go with your drinks. The bar and grill is available for catering and parties.
They have a quiet ambiance, targeting the young professionals of Rochester with a dimly lit pseudo-Irish bar that, while often having a game on the television screen, is loath to be called a sports bar. There is karaoke on Thursday.
Located in the One Eleven on East.
Awards
Voted "Best Bar for Karaoke" by City Newspaper's 'Best of Rochester' Awards in 2015.1
Comments:
Note: You must be logged in to add comments
---
2007-08-31 12:47:12 There is really nothing special about this bar, its a cross between a dive bar and sports pub.
It was much better when it first opened as the Eastman Lounge. If the owner would have advertised, even once, it may have made it. —MrRochester

---
2007-11-21 13:23:55 i like temple bar a lot—it's chill, great service and surprisingly good food! no bulls**t here. —DulcineaEsq
---
2008-06-17 12:03:13 I tried to eat here on a Monday, but they had no food.. —MariahBetz
---
2008-08-25 10:36:36 Onion rings were great. Completely lacking in draft beers, have only 3 choices Guinness, Yuengling or Blue Moon.
---
2008-10-16 11:21:32 The food here is amazing. They have some of the best wings and quesidillas in town! Can't beat wings for 30 cents each. Place inside is nice too, with great service. —ChampsElysses
---
2010-06-23 10:32:39 Got food here during the first weekend of the Jazz Fest. I was expecting run-of-the-mill bar food, but the hot wings were awesome! Who woulda thunk? —TippingPoint
---
2013-06-14 16:02:57 Such an odd time to tell me that your kitchen is closed and you cannot feed me lunch: A) 3 p.m. on the day of the East End Music Festival, an event that I would think would overwhelm you with business, and B) at the very same time you've just plopped a huge plate of wings in front of the fella next to me. Thanks, Temple Bar! —AaronBPryor
---
2015-06-16 17:56:21 NEW BEER TAPS! NEW BEER TAPS GOOD PEOPLE! THE TEMPLE HAS NEW BEER TAPS AND THEREFORE A BETTER SELECTION OF DRAUGHT BEER! IT'S A MIRACLE! —AaronBPryor
---
2017-03-16 16:12:01 For a standard bar, I love their food. Cheap beers. Service is always fast. —DE