ABOUT
The 23 Psaegz is a large, multi-instrumental freak-folk band based in Rochester, NY. Headed by Seth Faergolzia (of the now-defunct, NYC-based project
Dufus), the Psaegz frequently play at the
Bug Jar and other Rochester venues. They are currently on a summer tour, making numerous stops along the east coast:
7/26 Babeville – Buffalo, NY
8/2 Skylark – Rochester, NY
8/3 House of Love – Greenwich, CT
8/4 Really Cool House Show – Boston, MA
8/5 Cameo – Brooklyn, NY
8/6 Antifolk Festival at Sidewalk, New York City
8/7 Eris Temple Arts – Philadelphia, NY
8/8 Emilio's – Richmond, VA
8/9 Blackbox Theater – Salisbury, NC
8/10 Birdhouse Noun Factory – Athens, GA
8/11 Jack of the Wood – Asheville, NC
8/12 Flat Iron – Greensboro, NC
8/13 Twisted Branch Tea Bazaar- Charlottesville, VA
8/14 501 Speakeasy – Roanoke, VA
8/15 Wind Up Space – Baltimore, MD
8/16 The Lemon Grove – Youngstown, OH
8/17 Howlers – Pittsburgh, PA
8/19 Meddlesome Lab – Rochester, NY
The 23 Psaegz originally gathered in order to learn and perform Faergolzia's stream-of-consciousness-y puppet rock opera, also named "The 23 Psaegz," but has evolved into a close-knit backing band (that's not quite up to 23 members — yet) for Faergolzia's unique and memorable musical creations. As it stands today, the group includes a mini-choir, a tuba player, a bass guitarist, an upright bassist, a banjo player, a flautist, a saxophonist, a cellist, and, of course, Seth Faergolzia, a masterful vocalist, guitarist, xylophonist, kick drummer, and whistler.
Seth Faergolzia and the 23 Psaegz released their debut CD on April 28, 2012. Seth has since toured solo in Europe four times in 2012-13 as well as touring the west coast.
MEMBERS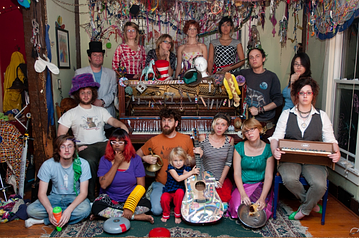 Seth Faergolzia: lead vocals & guitar
Neeti Fidurko: keytar, piano, vocals, percussion
Brett Gobe: tuba, sousaphone
Laura Lee Jones: vocals, percussion
Shaun Jones: electric guitar
Ian "Blacksmith" Blackwood: mandolin, violin
Jessica Breen: flute, vocals
Joyce Britton: saxophone, vocals, percussion
Roshi Cain: vocals, percussion
Noelle Evans: vocals, percussion
Daniel Kushner: percussion
Payton Marovich: vocals, guitar, ukelele, banjo, percussion
Reilly Solomon Taylor-Cook: upright bass
Leah Stryker: vocals, percussion
John Vadas: electric bass guitar, vocals
Andrew Cayer: vocals, percussion
Joseph Schmidlin: tabla
Colleen Sedita: glockenspiel, vocals
John Delmonico: cello
ONLINE
Official website

Facebook

Twitter

Reverbnation

Sonicbids

Soundcloud

Bandcamp

Last.fm