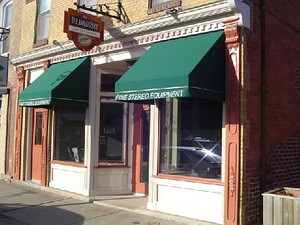 Victor Store Front - website image
Location
57 East Main St, Victor NY, 14564
Hours (As of August 2013)
By Appointment (Usually there Saturdays 10:30-2:30, but best to call)
Phone
585 742 2860
Accessible
Info Needed
Email
<Analogshop AT aol DOT com>
Website
http://www.AnalogShop.com/
The Analog Shop is a "high-end" audio shop in Victor.
Comments:
Note: You must be logged in to add comments
2009-03-28 18:14:19 - The Analog Shop in Victor is a great resource for all of your turntable, vinyl, and analog needs. Bob, the owner, is extremely knowledgeable on everything audio, and is very approachable and unpretentious - you will not feel intimidated going in and asking questions. You can get everything from entry level tables up to famous audiophile decks like the Linn Sondek and Roksan Xerxes. They can also set you up with a phono cartridge and stylus, interconnects, HiFi amps/preamps, and speakers. If you're at all into vinyl or HiFi sound, you should definitely check out the Analog Shop.
GiantSquid
---
2009-12-09 22:14:38 The few times we tried to go there, they were closed...during hours they should have been open. There was no sign up saying why they were closed. I'd advise calling first, since not everyone who wants to go here lives in Victor. We always drove down from Irondequoit. —MarcVera
---
2013-08-06 17:43:35 Good experience and source of new and used gear. Unlike most of the other shops - he takes trades! —Bromo33333