Mount Hope Location
Winton Location
Victor Location
Address
Address
Address
1142 Mount Hope Ave, Rochester NY, 14620
3010 Winton Road South, Henrietta NY, 14623
-Winton Place
10 Square Drive, Victor NY, 14564
Phone
Phone
Phone
585 271 4105
585 339 3010
585 924 2337
Hours
Hours
Hours
Monday-Saturday: 11:00AM
Sunday: Noon.
Kitchen until 1:00AM
Monday-Saturday: 11:00AM
Sunday: Noon.
Kitchen until 1:00AM
Monday-Saturday: 11:00AM
Sunday: Noon.
Kitchen until 1:00AM
Email
Email
Email
<mthopedistillery AT thedistillery DOT com>
<brightonddistillery AT thedistillery DOT com>
<victordistillery AT thedistillery DOT com>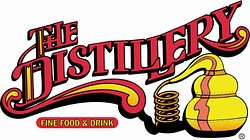 Company Logo ®
The Distillery is a sports bar and full-menu restaurant. The company opened the Mt. Hope Avenue location in 1980 and now has expanded with three additional locations. The company also operates Pellegrino's Deli Cafe.
The Mount Hope location is a popular dinner choice for U of R students where they accept URos. A great place to go if you need to watch a game. Half priced appetizers after 9pm. Last summer they had beer specials every rainy day.
Notes and References

They offer Express Pickup at all three locations, call the numbers above.


Checkout Specials for coupons and info on Seniors discount. half price appetizers, Tuesday Night Kids Eat Free and more.
The South Winton Road and Mt. Hope Avenue locations both accept RIT's Tiger Bucks as payment.
Awards
Voted "Best Sports Bar" by City Newspaper's 'Best of Rochester' Awards in 2015.1


Voted "Best Wings" in City Newspaper's 'Best of Rochester' Awards for 2008. 2
Comments:
Note: You must be logged in to add comments
See Archive Page for comments prior to 2008.
---
2008-05-29 20:59:29 My husband and I usually meet up with other grad students from the U of R at the Mt. Hope location. Who can beat the half price appetizers after 9? Lots of beers on tap and you've got to love the 2-for-1 margaritas! My husband loves the selection of Buffalo Wing sauces and I (a vegetarian) adore the cheese quesadillas, potato skins (minus bacon) and other offerings. Their full menu is extensive, delicious, and reasonably priced. A favorite place to take our visiting friends and family! Kudos to The Distillery! —jramey
---
2008-09-03 10:24:03 Really delicious wings. The Winton Road location is really nice. I havent tried the Greece location. The one on Mt Hope is classic dumpy sports bar. Recommended to watch a game and get some good pub grub. —MrRochester
---
2009-02-21 11:27:09 Was just at the Winton Road location yesterday for lunch. Service was extremely slow. I also wound up paying $2.29 for a Coke. Are you kidding me? —AdamFuller
---
2009-07-19 18:49:49 The wings I have here are the best so far in Rochester. All other wings other than chipotle and ghost wings are nothing to mention about. The half price appetizers are a steal.
Lets talk about the ghost wings these are the hottest wings available yet made from the "Ghost Chili" found in north eastern India, no wonder their food is hot and spicy. The only thing that has more capsaicin heat content than ghost chili is the Law Enforcement Grade pepper spray.
one word of caution though; If you plan to have 2 pounds ghost wings just make sure you have a a lot of milk before you get to bed other wise you are in for a nightmare. —WingAddict

---
2009-10-02 20:47:01 Great food, good beer selection, however parking can be rough sometimes. Especially at the Mt Hope location —MetalFrost
---
2009-10-27 13:21:46 Went to the Winton Rd location last night with my mother. We both got a cup of french onion soup—delicious! We shared an order of sweet potato fries, which were nice and hot when they came out (unlike a lot of places that always seem to serve them cold—ick!). The fries were good and crispy, but could have had a little less salt. It didn't bother me, but my mom made mention of it. We also shared a cheese quesadilla. That was good, but nothing to write home about...a pretty standard quesadilla. Some more veggies would have made it a lot better. I also got a pint of Sam Adams Cherry Wheat for 2.50 which was delicious and complemented the meal nicely. I'm looking forward to coming back and for the Victor location to open up! —JenniferVergamini
---
---
2009-10-28 19:26:30 I've eaten here several times and I consistently walk away with a "meh" type of feeling. The food isn't horrible (but isn't drop dead delicous). The beer selection is good (but nowhere near as good as Tap & Mallet's). The wait-staff is there (and that's about it). The bill is average to slightly overpriced (because you didn't go at just the right hour). This is the type of place that Applebee's imitates... —BatGuano
---
2009-12-03 16:16:31 I'm a graduate student originally from PA, and I've been going to the Distillery on Sundays to watch football for almost 4 years. At first I loved the atmosphere, the food, everything! Over the past year I've seen a rapid decline in service, food portion size, and price. I understand the economy hurts now, but when you order a burger, I expect more than a 1/2 handful of fries. And furthermore, the loaded fries appetizer (I think $7.99) is really no more fries than a typical side of fries. I'm used to getting a large plate of fries w/ cheese and bacon for $8, but not here. If you come here, I recommend it be during a sporting event so as to not distract from the feeling of leaving hungry with an empty wallet. —mbetush
---
2009-12-12 00:17:52 Had a very tasty dinner at the Winton Road location tonight. As usual, the wings were delicious. Unfortunately, we got the "large party shaft" - being a table of 8, we received very slow service because our server knew a generous 18% tip would be added to the bill. We watched as a nearby couple was seated, ordered, and received their dinners before we even got our drink order! I enjoy eating at the Distillery, the food is good and the prices are reasonable, but I will think twice before returning with a large party again. —daverea
---
2010-02-02 21:20:06 Best wings in town by far. I have no idea how Jeremiah's wins every years. The Distillery's are MUCH better. —JakeBurgholzer
---
2010-02-20 21:59:10 I agree with many here. These ARE definitely the best wings in town. The garlic-cajun have an amazing complex flavor, and the ghost wings are the heat I am looking for. They are so good. Damn, im getting a crazing. —WindyPig
---
2010-04-30 12:48:19 I just had a bad lunch at the Winton Rd Distillery. The buffalo chicken sandwich which is described as hot and coming on a roll is neither hot or is it on a roll. Instead they use a hamburger bun which is lame for a buffalo chicken sandwich. My girlfriend had a dessert brownie which while large, was very bland. For the prices they charge I would expect better food. —DamianKumor
---
2010-06-26 12:31:07 Had a craving for wings, usually have had good luck with the Distillery on Mt. Hope and Greece, so decided to try the new Victor location. Bad choice.
This was nowhere near the quality I have had at other locations. Ordered loaded fries ($8.99) and got a quantity of fries typical of McDonalds small fries with a few shreds of cheese and pulverized bacon. Certainly not worth the price. Ordered wings and they were typical of any of the hundreds of national chains that serve oversauced, gloppy wings. Nothing like the wings the Distillery had a reputation for.
Won't be giving this one a second chance. —nd99

---
2011-03-14 00:39:49 I am seriously starting to hate the Winton Distillery. The prices are higher than McGreggors and the beer selection is about 1/3 the size. A few months back, I went here after the last class of my MBA with the other students and the service was awful.
Then Saturday, my friends and I went here after the RIT Hockey game. When you enter they have a list of specials for 'St. Patrick's day' so I and my friends were thinking "good that's Thursday so they must be for the week otherwise why the heck would you put them at the entrance to the restaurant!" Well I ordered off that for my drink and so did my friends. Well when the second round was ordered I asked what else was on the board and then the waitress told us that those specials were for St. Patrick's day. Nice of her to tell us that after the fact, must not be too bright to realize we all ordered drinks off of it. And the manager is stupid for putting them up in the front of the restaurant in an area where everyone else posts the current specials.
So Winton has had three shots to get it right and failed every time now. I liked the Mt. Hope one when I was in college, dunno why this one sucks so much.
---
2011-09-09 03:01:51 Had the worst margarita there of my life - sooooo salty. The food is okay but a little pricey for bar-ish food. It feels like it sort of wants to be a tavern or a sports bar but doesn't do it well - ends up being tacky but not warm or welcoming. Will not be going back. (Mt. Hope location) —eklie
---
2011-09-25 21:13:53 I usually do not complain about service I get at restaurants during supposed busy dining times, but the lack of service we received today around 6:00pm at the Winton Road Distillery was inexcusable. My two friends and I were seated by the hostess promptly enough, but no one came to so much as give us water. Three servers passed our both, one of whom looked me dead in the eye, but no one stopped to take a drink order at a minimum. Finally after nearly 20 minutes, we left.
The restaurant did have a large bar crowd in because of the games that were being played, but the dining area was far from full. There is absolutely no excuse for us to have not been acknowledged. We were not loud or disruptive. We were dressed appropriately for a bar and grill like Distillery. We were actually ready to order as soon as a server would have come to our table. The only difference between my party and other patrons was that we were much "browner" than the rest of the customers around us; My friends are Dominican and Puerto Rican, and I am black. If this is the reason why we were not served, then the servers who seemingly deliberately ignored us do not deserve their jobs, unless this is the standard policy of the Winton Road Distillery.
I have been other Distilleries before this time. I enjoy the environment and and food. I have eaten there in large groups plenty of times. I will not, however, patronise a facility that does not treat all of its customers with respect. I am not sure if the Distilleries are a chain or individual franchises. Until I know for sure, none will get me friend or my business, and I definitely will not set foot in the Winton Road Distillery again. —ChrisThompson

---
2012-12-27 15:44:37 I got undercooked chicken. It was red! Brought it to the waitress's attention and she said "Nope. It's cooked!" Of course I didn't eat it. She came back and asked how everything was in a few minutes. Untouched and raw!! She could've at least cleared my plate! (Greece) Gross! Also, at least cut up chicken on pasta! Don't just flop the breast on top. —ClarissaBrown
---
2013-07-31 11:14:08 "The only difference between my party and other patrons was that we were much "browner" than the rest of the customers around us; My friends are Dominican and Puerto Rican, and I am black. If this is the reason why we were not served, then the servers who seemingly deliberately ignored us do not deserve their jobs, unless this is the standard policy of the Winton Road Distillery."
Really? —SRB