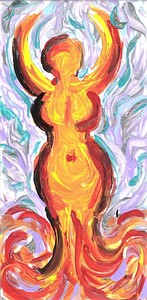 What Response Do You Want to Evoke
The goal of The Evocative Woman Dance and Fitness Studio is bettering the lives of women through a cross cultural exchange of ideas, creative expression and wellness through dance and fitness. They offer dance and fitness classes for women as well as couples dance classes where singles are welcome.
The Studio provides a forum for connections between women seeking a greater understanding of women's potential and their own personal potential through study and interpretation of ancient and modern forms of feminine dance. It is a safe and supportive place to gather and share creative expression through numerous styles of dance and exercise.
Instruction is offered in the origins and styles of feminine dance through a series of classes: Bellydance, Pole Dance, Stay at Home Striptease. Classes will provide each woman regardless of age, background, physical or creative ability an outlet to express herself and in the process gain a deeper appreciation of her self worth. The Belly Dance class will include history of Belly Dance, rhythms of Belly Dance and various Belly Dance styles.
They offer yogalates and yoga classes to help with personal fitness goals.
Comments:
Note: You must be logged in to add comments