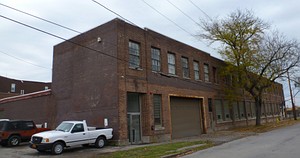 The building as it appears in November 2013.
Location
33 Russell Street, Rochester, NY 14607
Occupant(s)
Commercial and residential
Property Owner
Luke and Gary Dutton
Property Owner's Phone
585 7490526
Website
http://www.DuttonProperties.com
Facebook
Construction
1919
The Factory is a mixed-use development being carried out by Luke and Gary Dutton in the Neighborhood of the Arts. The abandoned industrial building is being transformed into lofts, office, and retail space. The property had actually been purchased a decade ago and was being used for storage until the time felt right to rehab it. Dutton says the lofts may eventually become owner-occupied condos.
In October 2013 The Factory made its debut as the site of a runway show during Fashion Week of Rochester. The theme that year was "Refashioning Rochester." Actress
Shannon_Elizabeth appeared as a special guest. According to the Democrat and Chronicle:
This year, the idea is to showcase the reuse of older buildings and a resurgent downtown—evidence that Rochester is following housing trends along with style trends. A new generation of homebuyers and renters, here and nationally, is looking to live in greener ways, surrounded by old-world character that can best be found by moving to a city's core. Even empty Rust Belt downtowns in cities such as Cleveland are reenergizing into cultural centers filled with repurposed housing, arts offerings and dining options.1
Current Tenants
Previous Tenants
Links
Comments:
Note: You must be logged in to add comments